Cross Country flourishes at Westerville
Hang on for a minute...we're trying to find some more stories you might like.
     In the second week of the young Cross Country season, the Jonathan Alder Cross Country program ran in the Westerville North XC Classic.
    This season, the Pioneers have competed in two other meets. The girls team entered Saturday undefeated, winning the Ben Logan Invitational on August 21st and the Baron Blast on August 25th.
    This Saturday was no different as the girls team cruised to another victory, defeating Olentangy Berlin by 9 points and extending their undefeated streak.
    Sophomore Maddie Davis led the way for the girls, winning the Division 2 race, with an impressive 19:37 in her third 5K of the season.
    Sophomore Morgan Hicks and senior Maddy Killian followed, placing 2nd and 3rd respectively. Freshman Reggan Gray and senior Ashlyn McDaniel rounded out the team's lineup, placing 7th and 11th respectively.
    The boys team entered Saturday with a win at the Ben Logan Invitational and a second place finish at the Baron Blast. The boys missed out on first place at Buckeye Valley by 8 points, losing to Olentangy Liberty, who was ranked 8th in Division 1 the week before. This week, the team came up 17 points short on 5th ranked Heath.
    Junior Gavin Frick finished first for the boys, placing 3rd and running a 16:54. Juniors Luke Malone and Michael Gray followed, placing 4th and 8th respectively.
    Junior Zach Hicks and freshman Grant Welsch finished 4th and 5th, within seconds of each other, placing 18th and 19th respectively.
    The boys team came up short of pulling off the upset over 5th ranked Heath and placed 2nd at Westerville.
    Coach Alex Irwin commented on the team's performance. Irwin said, "We're a young team. Yeah, we were expecting to race better, but we have a lot of better racing in our future."
    The program will next race at the McGowan Invitational on September 8th at Watkins Memorial High School in Pataskla.

About the Writer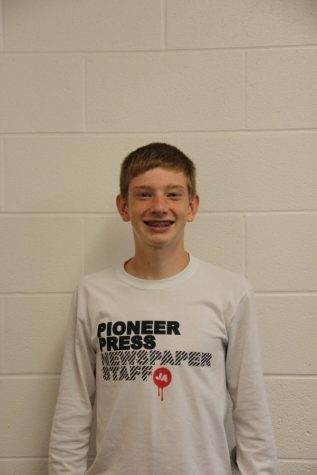 Gavin Frick, Editor in Chief
Gavin is a Junior at Jonathan Alder High School.  Gavin runs Cross Country and Track.
This will be Gavin's 3rd year with the newspaper.