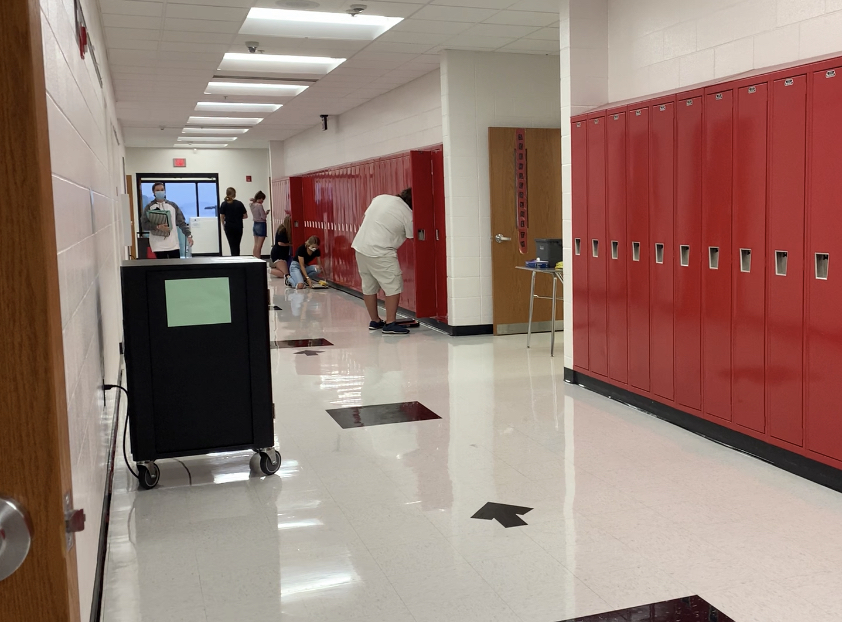 Students shuffle throughout the long brick hallways, shoes squeaking as they hurry to their classes socially distanced and following the school's guidelines.
Due to the COVID-19 pandemic, students returning to in-person school must follow the health guidelines set by Jonathan Alder High School and Madison County. 163 students in the district (according to the school board meeting on 9/14/2020) have chosen to do fully online schooling, known as the Jonathan Alder Digital Academy (JADA), while others have decided to do traditional in-person education. In-person students' feelings on these new restrictions have differed, with some being content with the rules and others finding them difficult to follow throughout the day.
Sophomore Emily Hollinger, one of the many students who returned to in-person school at the end of August, expressed trust in the school board's decisions.
"I trust the school board and health department with their decisions and I have always felt safe," Hollinger says. "I do think the rules are beneficial and are helping to not spread viruses or germs in general."
One of the many rules put in place is that you must wear a mask and social distance as much as possible. Junior Nadia Haines feels at ease and safe with masks on. "I like that we have to wear masks because my dad has a lot of health issues," she says, "and so… it makes me feel comfortable in knowing that…I don't have more of a chance to bring anything home."
Haines isn't the only one content with the mask rule. Freshman Seth Dickman also isn't too concerned about wearing masks.
"Masks? I don't mind them too much. It might be nice if [we] had like, more, breaks from wearing them," Dickman says. "…I don't mind them too much."
Overall, students have gotten used to the new rules, following and respecting them as much as possible. Regardless, it can be hard on some students. Senior Amber Little has had to adjust to the lack of physical contact.
"It's hard not to hug your friends," Little says. "You can't give people high fives."
While the year hasn't gone as anticipated, the students have adjusted, and are learning to the best of their ability despite the pandemic.
"I mean, it's nobody's favorite. But if I get to see my friends, I'll do it," Little says.