Q&A With Ali Craig
Senior tennis player, Ali Craig, Discusses her Senior year Tennis Season.
Q: How's your day going?
A: My day has been really great! I've played and cuddled with my dog all day! Also had Canes for lunch so it's been a good day.
Q: What is your favorite place that you've ever traveled?
A: My favorite place I have ever traveled is definitely New York City.
Q: What's the last song you listened to or movie you watched? 
A: The last movie I watched was Moana with my boyfriend.
Q: If money wasn't an issue, what would you want to do professionally?
A: My goal is to be a Pediatric Nurse Practitioner.
Q: What are you passionate about?
A: I would say I am very passionate about becoming a nurse and my music. I love caring for people and playing my clarinet is definitely one of my favorite hobbies.
Q: What was the most memorable part of Tennis this year?
A: My favorite part of this tennis season was playing with Maddie Wilson and having an undefeated season. We also made CBC first team this year!
Q: How was your last High school tennis experience?
A: I can't really complain about my tennis experience this year. I am super thankful that we were given the opportunity to play this year! I didn't think I would get a senior season but I did and it was one of my favorite seasons. 
Q: Are you going to continue playing tennis?
A: Yes, I plan on playing at the collegiate level.
Q: What tips would you tell a new tennis player?
A:  Don't give up! Tennis is a sport that takes time and practice so definitely stick with it. The end result is super rewarding.
Q: What's a must have to have in your tennis bag?
A: I always have to have my sweat rag. I know that sound disgusting but I can't think of a match where I haven't had to wipe my hands off. Playing in 90 degree weather with sweaty hands makes the grip really slippery so without my rag I wouldn't be able to hit my shots!
About the Writer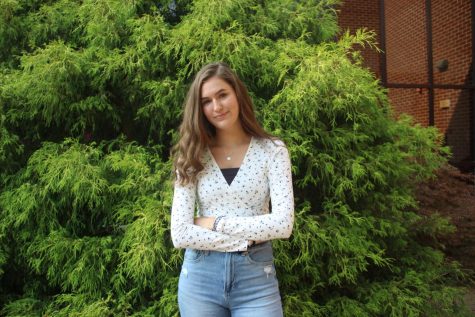 Morgan Liening, Staff Writer
Morgan Liening is a sophomore at Jonathan Alder Highschool. This will be her first year being a part of the Pioneer Press! She enjoys playing for the JAHS...