Countdown to Christmas: movies for every day leading up to Christmas.
As the winter winds start blowing, taking the fall leaves with them, many people start to turn indoors as the chill in the air gets stronger. One of the most popular activities one does indoors as the temperature drops is to watch movies, Christmas movies specifically. Although I can become a Scrooge and think that Christmas is a cash grab by the capitalists to make us consumers spend more money, I am a sucker for a good Christmas movie. I've always adored Christmas movies and have been known to watch them not just during the holiday season, but all year round. Here's my 25 days of Christmas and movies for each day leading up to the holiday.
December 1st- Gremlins 
Arguably the most forgotten Christmas movie, Gremlins actually has the backdrop of Christmas for the shenanigans that go on. There's plenty of snow and holiday cheer–the gremlin in the first place was actually a Christmas gift to the protagonist. It's the perfect introduction to the season.
December 2nd- The Nightmare Before Christmas
This movie is more regarded as a Halloween to Christmas movie; you can watch it anytime between the two holidays. Although there is Halloween in the movie and horror themes throughout, the overarching holiday is undoubtedly Christmas. I was surprised at how little Halloween there was the last time I watched it.
December 3rd- Black Christmas (1974)
An iconic horror film that resurged the slasher troupe, Black Christmas is one of my favorite horror films because of its brilliance; they never show the killer. The movie takes place on Christmas in a sorority house–if that's not enough to give you chills I don't know what will.
December 4th- Home Alone
Arguably one of the best pieces of media from the 90s, Home Alone sparked my love for the "parents aren't home the kids are going wild" troupe in film and has one of the most heartfelt messages: even if your family annoys you, they still love you. The tomfoolery of the two burglars and child Macaulay Culkin along with the spectacular score by John Williams are sure to get you in the holiday spirit.
December 5th- Christmas With the Kranks
I'm a sucker for Tim Allen and I absolutely adore Jamie Lee Curtis. I love this concept that's presented in the film, "let's forget all traditions and have a vacation instead of Christmas," and then realizing they love their community and want to spend Christmas with them rather alone and on a cruise ship. The sadness of becoming empty nesters resonates with me as when I leave for college my parents will be empty nesters as well, but I love that they come together for Christmas.
December 6th- Author Christmas
One of my favorite "kids" Christmas films and I love the realistic approach this film takes. This film shows a realistic approach to how Santa would hypothetically distribute presents. I also love the idea of "no child left behind" that Author takes on and drives the plot of the film.
December 7th- Jingle All the Way
I adore the absurdity of this film, and love the idea of a father who will do anything to make his kid happy- including becoming his idol.
December 8th-The Little Drummer Boy (1968)
I'm a sucker for anything by Rankin/Bass Productions, including this dinosaur of a movie. The animation is something that resides in the deepest recesses of my childhood and is just so textured and human. Although it's only 30 minutes long, it's a spended time and a great starter for the holiday season.
December 9th- Rudolph the Red Nosed Reindeer
An absolute classic and a must watch for the season. Personally, my favorite character is Yukon Cornelius because of his absorbedness, and I stand by that. I will randomly start singing "Silver and Gold" often because of how much this movie has affected me.
December 10th- Rudolph the Red-Nosed Reindeer and the Island of Misfit Toys
    Based on the original, this 2001 computer animated sequel has poor quality, but I'm a sucker for early 2000s bad animations. I honestly thought I dreamed this movie and didn't know it actually existed until this year, but this movie probably gave me more hoarding tendencies than Toy Story and made me fearful of kites.
December 11th- Snowglobe (2007)
As someone who owns quite a few snowglobes, this movie strengthened my love for them and made me wish I could go into the scenes depicted in my snowglobes. I think It's a clever concept, a reverse The Indian in the Cupboard if you will, and made me love New York even more.
December 12th- The Santa Clause
As I've said I'm a sucker for Tim Allen and this film is no exception. I love the concept presented in this film: a divorced man loses everything while simultaneously turning into a fictional character and the whole world is calling him crazy. I also love Judge Reinhold's performance in this film-he's just clueless the whole time.
December 13th- Barbie in The Nutcracker
One of my favorite Barbie films… I'm not ashamed to say that I (like many people in my generation) was obsessed with Barbie films growing up and will still rewatch them from time to time for nostalgia. This definitely takes me back to being 6 years old and watching it while I fell asleep on Christmas Eve. I still love the animation because they used mocap (motion capture) on The New York City Ballet dancers, and the fact that what you are watching while they're dancing is actual dancers performing makes it all the more amazing. I love ballet, especially The Nutcracker, and usually I don't like adaptations of ballets, but this one sticks to the original music and dance, so altering the story for a new generation doesn't bother me.
December 14th- Frosty the Snowman
Undoubtedly one of the most memorable characters of the Christmas season, I enjoy the film not only because of nostalgia but because of the animation style. It closely resembles School House Rock and I just have such a soft spot for 1960s and 1970s kids animation.
December 15th- Santa Claus is Coming to Town and The year without a Santa Claus
Another claymation by Rankin/Bass Productions that I adore, I enjoy the texture of the scenery on screen and I love the songs and musical numbers. I mean we all know the Heatmiser/Freezemiser title song, but other songs such as "It's Gonna Snow (Right Here in Dixie)", "I believe in Santa Clause", "My world is Beginning Today", "If You Sit on My Lap Today", and "One Foot In Front of The Other", are all bangers.
December 16th- Penguins of Madagascar Whacked out Christmas Special
I honestly don't know how I ended up with this DVD, but I'm glad I did. Although short, this is definitely my favorite film in the Madagascar universe other than the original film, mostly because the tomfoolery that happens in the NYC apartment building is amazing.
December 17th- Jack Frost (Live Action and Animation)
I adore the animated version of Jack Frost, as the songs and texture of the animation is engraved in the deep recesses of my mind. This is another short by Rankin/Bass Productions, which I love. Partnering it with the Live Action Jack Frost (1998), which I love for its association to music. One of the main characters is brought back to life through his kid playing a harmonica. It's all about making up for lost time.
December 18th- How The Grinch Stole Christmas (Live Action and Animation)
I love the 1966 original, and pairing it up with the 2000s version (where Jim Carrey delivers a spectacular performance and the characters are more fleshed out) for a double feature is sure to be a good time.
December 19th- It's A Wonderful Life
One of the most recognizable Christmas films ever made, It's A Wonderful Life is to this day one of my favorite theatre performances I've seen. My introduction to the story was a live action performance of the show, but it was told in a radio show sort of way- like listening to an audiobook- and watching them voice act and create the sound effects was incredible. Watching the movie definitely is not the same, but I enjoy the movie for the plot and nostalgia.
December 20th- Elf
    It's incredible that the senior class is just a bit older than this film (2003) so many of us probably saw it as an infant during our first Christmases. I am a huge fan of Will Ferrell, and this film is no exception. His performance is really something-especially during the more awkward scenes, he doesn't falter or waver and stays completely in character. There's something so amusing about watching adults return to things that may seem childlike but give them joy, and this movie is the personification of that idea.
December 21st- Scrooged
I'm a huge fan of Bill Murray and of Charles Dickens, so this film is a perfect combination. The original storyline is still intact–Scrooge facing his past, present, and future and ultimately becoming a better person–but there are some twists and turns in this 80s comedy film.
December 22nd- A Christmas Carol (2009)
This is the most accurate retelling of Charles Dickens's tale, in my opinion. Jim Carrey, again, performs spectacularly as many characters in the film and my favorite thing about this film is the scene with the Ghost of Christmas Present and Scrooge. Because they're both played by Jim Carry, it's a good 10 minute scene of just back and forth between himself, but you would never know because of how well he contorts his face and changes his voice. This movie's use of mocap (Motion Capture) allows for them to layer on the animation to the actors' performances, giving it a very distinct look, and as they used computer animation they didn't need to hire different actors to play characters at different ages, so virtually Jim Carry plays every version of Scrooge except for when he's a child, giving it an amazing smooth effect of ageing. The use of mocap also gives it an uncanny valley (a theory that the more human-like, a thing becomes the more appealing it is but only up to a certain point), but I think it's a bearable amount and adds to the overall creepiness of the film. I actually used to be so scared of two scenes, the knocker scene where Scrooge's door knocker turns into the face of his dead friend Marley, and the scene where the Ghost of Christmas Past dies and he shows Scrooge Humanity's children: Greed and Lust.
December 23rd- Peanuts Christmas Specials (A Charlie Brown Christmas, It's Christmastime Again, Charlie Brown, Charlie Brown's Christmas Tales and I Want a Dog for Christmas, Charlie Brown)
I have a soft spot for all Peanuts Specials, especially as my dogs are named after the characters, but these winter tales are so engraved in my childhood that I have to revisit them each year for nostalgia.
December 24th- The Polar Express
In my opinion, this is the best Christmas Eve film, as the film takes place on Christmas Eve and is all about the anticipation for the next day. I adore the Soundtrack (that and the Nutcracker is the only Christmas Music I can handle), but it's also the most Tom Hanks movies ever. Tom Hanks plays every single adult male character: The Dad, Santa, The Hobo, The Conductor, and he even did the original mocap for Hero Boy, the film's child protagonist. It's sure to build your anticipation for Christmas Day.
December 25th- Love Actually
Probably my favorite Christmas movie of all time, Love Actually is a comedy with such good British humor and a good morale. It follows separate couplings of people trying to find love during the holidays. My personal favorite storyline is between Alan Rickmen and Emma Tompson, as she fears her husband is cheating on her. She pushes herself away, but Alan's redemption is just so tactile and good. I also love the storyline with Bill Nighy, as he's trying to revive his career with a no.1 Christmas song, he just says the most ridiculous things and is so washed up and out of touch. This is sure to delight and make people who were conscious before 9-11 miss the days when you could go right up to the terminal gate to see your family.
About the Writer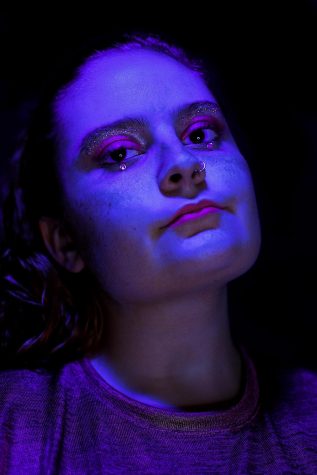 Madeline Frambes, Multimedia Editor, Staff Writer
Madeline Frambes is a Senior at JAHS, and this is her second year with the Pioneer Press. She enjoys practically anything involving music, from band to...