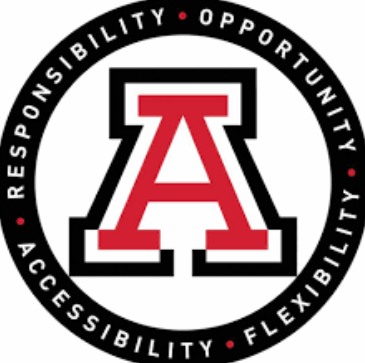 School electives are a way to find your spark with something; that's why so many different classes are offered. From creative writing to video production, Alder has a wide variety of electives that show you into the worlds of technology, language, and even art. Alder students need a total of five elective credits to graduate, with one of them being an applied science/technology credit. 
Sophomore Maggie Storts has taken Computer Graphics, Computer Programming, Choir, Ceramics One, Film Studies and Financial Investing.  "I started taking electives, because I wanted to try something different," she says. "They are also a break from the rest of the regular classes and hard thinking." 
Electives are meant to be a break from the rest of regular draining academic classes; Storts says, "This year I decided to take electives to have something different, like Financial Investing teaches you life skills with money and Ceramics One was very calming working with clay." 
While electives can be an escape from the academic world, they can also be an entrance into a new career path. They are designed to show you the start of new fields and what different jobs possibly hold. "If you're someone who wants to go into set design, costume design, acting or just anything with stage production; Film Studies would be the best class for you," Storts says. "Mr. Hughes goes really in depth about it and gives a better understanding of state production." 
Applied Science/ Technology:
Engineering
There are three different engineering classes that are offered at Alder: Food Engineering, Robotics, and Engineering Design. All of these courses are taught by Mrs. Schrewe, who has been teaching at Alder for the past six years. Students of any grade level are able to take these classes and no prerequisites are needed.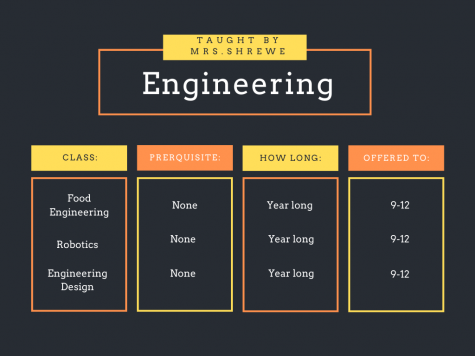 All courses dive into the world of engineering, but Schrewe says, " If you aren't sure about engineering in general, I recommend taking the food engineering class.  This class covers topics more broadly, whereas engineering design and robotics dig a little deeper into each topic." She went on to say, "If you like robots, electricity and soldering, legos, coding, and are decent at math, robotics is the class for you.  If you love to draw/sketch, do 3D modeling, and build things, engineering design would be a great choice for you."
With all these courses being taught by Schrewe,  they mostly all have the same structure but with different material. Schrewe says, "In each of my classes, we focus on creativity, problem-solving, time-management, communication, and teamwork in each project we work through." 
If an engineering career seems like a possible pursuit taking these classes would help get a foot into the door of engineering. "Just last week I got an email from a former student discussing how similar my classes were to her first semester in college and how far ahead she felt when she got there," Schrewe says. "I feel confident that these classes prepare students to have an edge over their peers if they plan to go to college for a STEM field."
Technology
There are 4 different technology courses that are offered at Alder: Computer Applications, Computer Graphics, Video Game Design and Video Production. Mrs. Kerzee teaches all of these courses, she has been teaching at Alder for fifteen years.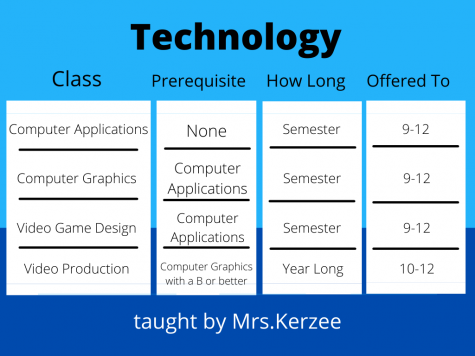 According to Kerzee, Computer Applications gives a nice transition into all the other courses that are offered. "It's the entry into all the other computer classes, you learn a lot of skills," she says.  "[It's] for kids who don't feel like they really know how to use a computer or technology, and kids who do know how to use it and are great with it. Applications give a nice overview or fresher about the basics of computers."
Computer Applications is a prerequisite to Computer Graphics, and that's because by the end of Applications is when learning about graphics starts to pick up.  Kerzee says, "Computer Graphics deals with vector graphics and raster graphics and we create a lot of communication graphics for the building, district or anyone who we decide to partner with. Basically learning how to create and adjust computer graphics. " 
From there, graphics are used in Video Game Design. "Video Game Design starts out with 3D modeling, we use a program called Unity," Kerzee says. "We take the 3D models and rig them so we can do 3D animation with them and after we create the animations for them, we put them into 3D worlds in Unity and Unity then allows us to attach graphics to the programming scripts. This then allows us to actually play the video games."
What brings all these classes together is Video Production, knowing how to use computers to broadcast, being able to design graphics and program. Kerzee says "Video Production is a full year class and it's the only full year class I offer. We learn how to do anything from creating personal video projects and doing the basics of editing to special effects, green screening and 3D modeling." Kerzee went on to say "Then the second half of the year the class is responsible for producing the student news show. They learn how to be a news journalist, from working the teleprompter, to the cameras; one of our goals is to figure out how to live stream it." 
IT Pathway 
The IT Pathway offers the courses of: Intro into Programming and Web Design,  Computer Hardware and Networking, Computer Software and Cybersecurity. All of these courses are taught by Mr. Alice, he has been working at Alder for six years.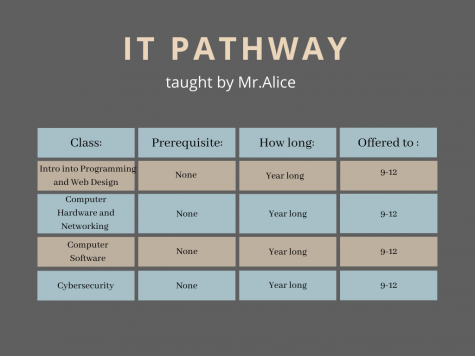 Each and every course is a new insight into computer science, "The easiest class is Intro into Programming and Web Design, there is not a test in the class. I type what's on the screen then you do it, it's almost like learning a forgein language." Alice says "Then Cybersecurity probably the next, Computer Software and Computer Hardware are almost on the same level." 
Going into IT many jobs are available and will continue to grow because as technology evolves so will IT. "A lot of this stuff you can turn into a career, like Computer Hardware and Software combined you can take a certification test called Comptia A+ certification." Alice says "If you pass those you don't have to go to college and get a job in the IT industry right out of high school."
Art 
There are a total of eight different art courses that are offered at the Alder, them being: Foundations in Art 1, Foundations in Art 2 Painting 1, Painting 2, Ceramics 1, Ceramics 2, Metal Works 1 and Metal Works 2. These courses are taught by Mrs. Moore and Mr. Polston, Moore teaches all eight of these courses, she has been teaching at Alder for 11 years.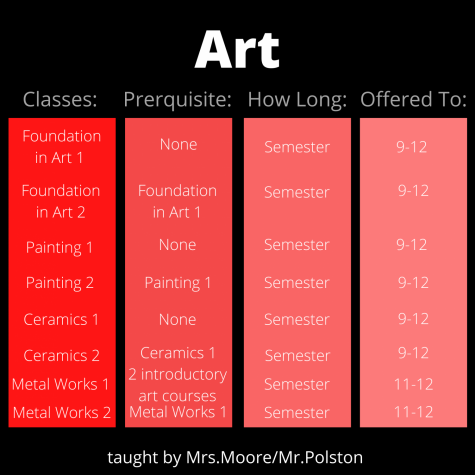 Alder offers many art courses, because many things can be done with art; Moore says "If you are interested in going into any type of career in art, I put a major focus on learning to see what you're drawing or painting. I also put a big focus on finding your own creative stitch once you learn how to draw properly." 
Art is about expanding horizons and finding what works best for you, Moore says "A lot of kids sign up for Ceramics 1 and 2, everyone likes to make things with their hands and it's not as threatening as painting or drawing." She also went on to say "I feel like a student signing up for art to just get the credit, I think they are less threatened by clay than having to paint or draw."
Because art is limitless, it's all based on skills and knowledge, "I teach my students to work to their best ability and further, I even tell them that as an artist outside of teaching I find things that I need to improve upon." Moore says, "I really push them to keep growing and try new things; I'm a real stickler for neatness, because if it's not neat then they aren't proud of it and I want them to be proud of what they create."
Music
There are three different choir classes that are offered, along with band and music theory. The choir department is taught by Mr. Mayes; these courses are Mixed Choir, Symphonic Choir, and Show Choir. Mixed Choir requires no audition, and is open to anyone wanting to join; it's a nice simple class if you want to learn more about music. Symphonic Choir is also open to all grades, but does require an audition and it's a bit more challenging, going more in-depth about music and singing harder songs. Show Choir is a mix between singing and dancing and open to all grades and requires a singing audition as well as a dance audition. Show Choir also requires a lot of time, including after school rehearsals because they compete in competitions across Ohio. 
Band, on the other hand, is one class taught by Mr. Hennig. From the months of August to October is marching band, which plays at all football games and participates in parades and band shows. This class requires after school rehearsals, Friday nights for games and Saturdays for parades or band shows. After the football season is over, concert band starts up; just two years ago, Hennig made the executive decision to have two concert bands. Symphonic band is where high school level music is played and Wind Symphony where collegiate level music is played. There are no auditions for band until the transition from marching band season to Symphonic and Wind Symphony. 
Music Theory was not offered this school year (20-21), but it will be offered for the next school year (21-22). Taught by Mr. Hennig, it will either be offered in AP or regular, Music Theory goes in-depth about how music is made. Students in this class learn about the different keys and clefs that music is produced in, along with sight-reading music. This course is offered to grades 10-12. 
More Electives
Across all the departments at Alder there are a few more elective classes that are taught but are specific to that subject. Some of those electives include Financial Investing, Film Studies, Creative Writing, Public Speaking and Yearbook. Storts says "I feel that electives are meant to open your eyes into the world of that topic and they really benefit you in a way that gets you ready for the real world."