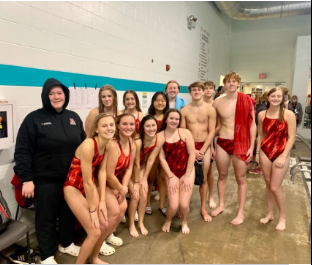 Emma Kennedy
Over the past seasons, the swim team at Jonathan Alder has continued to grow. According to coach Katie Bumgarner, this season is the largest the swim team has ever been with nine girls and four boys. With the number of swimmers increasing, more records are being set and the environment of the team is positively changing. 
This is the first season the boys team is able to race in relays, and they're setting new records at every meet. This is also the first year that there are enough girls to have two girls relay teams. The girls get to swim in more events because of these relays, giving them more opportunities to compete.
As the team grows, the positive atmosphere grows with it. Sophomore Alexis Ahner, says that she would describe her team as being "tight." Ahner says, "We all get along and we're very chill with each other." Because the team is growing, they've had more opportunities to get together outside of school and practice, such as getting to ride the bus to and from meets together and having team meals. 
As for training together, the team practices behind the scenes and goes to the Hilliard YMCA to practice for two hours after school. Junior and co-captain, Avery Wynk, says they practice Monday through Thursday, and Saturdays. Wynk says they "work on different skills every day, practicing swimming different distances and strokes." 
Along with returning teammates, there are six new teammates this season: freshman Anna Drewes, Winnie Sheridan, Emily Wheelbarger, Ashton Kennedy, and Greg Nussbaum, along with foreign exchange student, Rosalia Chunlian. 
Freshman teammates Emily Wheelbarger and Ashton Kennedy say they decided to join the swim team this year because they did the summer league at the Plain City Aquatic Center and really enjoyed it. 
Along with the swimmers having individual goals of their own, the team also has goals. Coach Bumgarner says, "we want to focus on competing at a high level within our conference and represent JA at the District and State level." Bumgarner expects that many school records will be broken by the end of the season, and hopes to continue growing the team. 
Below are the team roster for the 2021-2022 season, along with the updated meet schedule. 
JAHS Swim Schedule 2021-22 
Girls:
Name YR.
Alexis Ahner So.
Rosalia Chunlian Jr.
Anna Drewes Fr.
Maggie Matessa Jr.
Lauren Murphy So.
Allie Piccolantonio So.
Winnie Sheridan Fr.
Emily Wheelbarger Fr.
Avery Wynk Jr.
Boys:
Name YR.
Ashton Kennedy Fr.
Doug Nussbaum Jr.
Greg Nussbaum Fr.
Eli Stoll Jr.
Head Coach: Katie Bumgarner