Joe Burrow's Accomplishments in His Football Career
Joe Burrow has won the hearts of Bengals and many other NFL fans in this year's season. After a five year losing streak, Burrow  took the Bengals all the way to the 2022 Super Bowl in his comeback season. But how did Burrow get to this moment?
In 2014, Burrow was awarded Ohio's  Mr. Football award. This award is given to the best high school football player in the state of Ohio. The four-star recruit became the second quarterback to choose Ohio State after winning the award. Burrow was a talent to watch playing football in his small town, and coming into college gave him a culture shock because everyone was good. Bill Bender, a reporter for sportsnews.com, tells us what Burrows said on coming into college.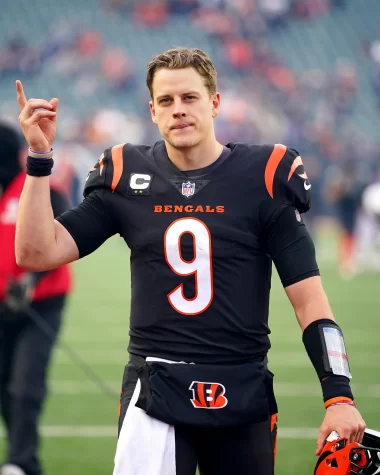 "I knew that I was going to have to get better. I came from a really small school in high school and it was kind of a culture shock when I got to Ohio State and realized how good everybody was." Burrow said at his Super Bowl virtual interview.
Collegiate Career 
While at OSU, Burrow sat on the bench behind the record-setting quarterback J.T. Barrett for three seasons. In 2017, Burrow had his chance to prove his skills when the starting quarterback Barrett injured his knee. Unfortunately,  Burrow also suffered a broken hand injury at practice in late August, which opened the door for Dwayne Haskins to become the new quarterback for OSU that season. 
The next year, there was a three-way race between Burrow, Haskins, and freshman Tate Martell. OSU's spring game would be a big part for discovering the new starting quarterback for the 2018 season. Burrow finished the game with 15 of 22 for 238 yards and two touchdowns, and Haskins finished 9 of 19 for 120 yards and two touchdowns in the same game. Bender wrote about Burrows post game response on the quarterback race. 
"Well I came here to play," Burrow said. "I didn't come here to sit on the bench for four years. I know I'm a pretty good quarterback. I want to play somewhere." 
Two weeks after Burrows graduated from Ohio State on May 6, 2018 he was eligible to play again, he then transferred to LSU to play for two years with the Tigers. 
 In 2019, while playing at LSU, Burrow seemingly came out of nowhere. Throwing 5,671 yards, 60 touchdowns, and 6 interceptions, he led the LSU Tigers to a National Championship. This impressive performance made him a top pick for the 2020 draft, where he was selected first pick overall by the Cincinnati Bengals. In an article written by Leigh Oleszczak, a reporter for Fansided, he talks about Burrows opinion on being the number one pick for the 2020: "He wanted to be the No. 1 overall pick in the draft and play for a team that greatly needed his services."
Playing in the NFL
In his first season with the Bengals in the fall of 2020, the Bengals had doubled their wins by the end of the season, three of which were with Burrow. Unfortunately, during the week 11 game, on Nov. 22 against the Washington Commanders, Burrow tore his ACL, MCL and partially tore his PCL. 
A knee injury that results in surgery is a season ending injury. He just saw this injury as another obstacle to hurdle in his career. In an article written by Mike Thomas,a staff writer for Sportscasting. Joe's dad, Jimmy, speaks on how Burrow planned to combat his injury. "He was just already focused on getting it fixed and rehabbing and being ready for the first game of 2021," Mr.Burrow says. 
A lot of physical training went into Burrow's recovery. Not only did he have to be cleared to simply practice, but it was more about whether Burrow felt comfortable playing again. He wowed the Bengals staff with his determination and drive to ensure his return to practice in the 2021 season. Bengals director Duke Tobin loved to see Burrows attitude toward his injury, In an article written by Patrik Walker a reporter for CBS sports news, Tobin said, 
"The good news is with Joe, what I've seen around here is he's attacking it full speed and looks great and so it's been very positive seeing him fight back."
 Coach Zac Taylor was equally impressed with his recovery but was still weary about his knee when game time came around. In an article written by Jason la Canfora, a reporter for CBS sports news, Taylor said, "He'll definitely sit out the first game and then we'll have conversations from there." 
But no amount of quick rehab could heal the mind that fast. The season ending injury Burrow endured can have a huge affect on the mental state of the athlete. It can cause mental illnesses, which could be problematic for the recovery and other responses.With playing such a violent sport, Burrow still had his work cut out for him. In an article written by Canfora, Burrow talks about his improvement in practice during the training camp in July.
"'I felt comfortable back there today, and today is the first day that I really felt like that.' Burrow says. 'It's exciting for me to make a step in the right direction. I've just got to stack the days now. Today felt great, but tomorrow's gotta be better.'" 
To make sure he could handle being the target of the huge opponents he'd face, he requested more drills that mimicked the pressure of the players coming after him. To help him perform these drills, a team of trainers and coaches came together to support him. Canfora talks with the offensive coordinator for the Bengals how they helped Burrow throw under pressure. 
"'Joe actually asked for it,' Offensive Coordinator Brian Callahan said. 'He said he just needed more reps with people around him,'" Canfora wrote.
The 2021-2022 Season
Burrows' comeback season started off strong when he won the game against the Minnesota Vikings in Week 1, but Burrow did not win alone: the Bengals implemented a new plan to help Burrow by bringing in some of his old teammates from his days with the LSU Tigers. They drafted wide receiver Ja'Marr Chase, tight end Thaddeus Moss, and a few others. The Bengals specifically knew the relationship Burrow and Chase had, and that the chemistry these two had would help the team go a long way.  In an article written by a reporter for SI news, Glen West talks about their relationship:
"The two developed uncanny on field chemistry for that historic season, helping Burrow earn the Heisman trophy and Chase win the Biletnikoff award. Now it appears the two are rekindling that tradition after their NFL practices as the two were seen getting in some extra throws after practice this week," reporter Glen West wrote for SI news in Jun. 11 of 2021. 
By the end of the season, Burrow and the Bengals had made it all the way to the AFC (American Football Conference) championship. James Rapin, a reporter for Sports Illustrated's AllBengals.com interviewed with Burrow before the AFC championship game. Burrow talked about why he loves to play in big games like these. 
"'These games are the reason that I play football.' Burrow says, 'I play to get to these moments and to make plays and take advantage of my opportunities. I work really hard for these moments.'" 
But Burrow and the Bengals still had their work cut out for them. For the past several years, the Chiefs have dominated the AFC. Despite that, Burrow would not go down without a fight. With the help of his teammates and coaches, they took down the Kansas City Chiefs. In a nail biting game with the final score of 27-24, the Bengals won with a 31-yard field goal kicked by Evan McPherson.  
The Bengals haven't made it into the super bowl in 33 years, but in Burrow's second year of pro football, he managed to lead himself and his team to one of the biggest games of the year. Nobody thought a team with a 4-11-1 record in the 2020 season would make it all the way, yet with Burrow's work ethic and the new team chemistry they defied the odds. 
During this year's Super Bowl, Burrow had the chance to make history. He would've been the first ever quarterback to win the Heisman Trophy, a national championship in college, and a 
Super Bowl title.  Even though the Bengals fell 20-23 in the game against the Los Angeles Rams, only a handful of second year quarterbacks take their team all the way to the Super Bowl, and Burrow is now on a list alongside some of the greats in the NFL. 
On top of winning the AFC championship and coming in second in the Super Bowl, this season Burrow accomplished so many more things. His complete passing percentage was high, coming in at 70.4%, and taking first place out of all the quarterbacks in the NFL. Along with winning comeback player of the year and taking the Bengals all the way to the Super Bowl LVI.