What's the best Cars Movie?
Gavin Frick, Sports Editor / Cars Caster
February 27, 2018
    In 2006, Pixar released its 7th movie, Cars. The beloved Pixar series has since released two movies, its latest being in June of 2017, Cars 3.
    Cars took the world by storm…well, at least I think it did. Although I was only four years old, I loved Cars. After the movie, I began collecting piles of the Lightning McQueens, Doc Hudsons, and Tow Maters. I eventually got to the point where we went to the store and couldn't find any new ones. My life revolved around Cars.
    Surprisingly enough, by the time Cars 2 was released, I was still a Cars fan. I didn't race with my cars anymore, but I was still incredibly excited to watch Lightning McQueen race in the World Grand Prix against Francesco Bernoulli.
    However, in 2015, Pixar announced that it would be working on a third Cars movie. At 13 years old, I was more excited for a movie than I had ever been. Cars was my childhood, and I couldn't wait to watch how my favorite childhood series would end.
    Well, it has been 9 months since Cars 3 was released, and I'm fully anticipating it being the final movie of the unrivaled Disney Pixar series. Since its release in June, I've watched it around 5 times and the movie has gotten better every time.
    I would argue anybody that Cars 3 is one of a kind. Transitioning Lightning McQueen into a Doc Hudson type role was incredible storytelling. I also loved that Pixar revolved the movie around The Hudson Hornet, one of the story's most prominent characters.
    I may be still on a Cars 3 high, but I don't hesitate to call Cars 3 the best movie in the series. The first Cars was great, and it's hard to say that it didn't outperform the second sequel, but Lightning McQueen's transition into Cruz's manager is executed a such an incredible level.
    In my opinion, Cars 3 is the best, followed by Cars and Cars 2, respectively.
    Although I ranked Cars 2 last, it was still an incredibly good movie. I loved Francesco Bernoulli's cocky attitude and Finn McMissile's confident swagger, but I think Cars 2 went too far out of the box for Mater. In fact, I don't think Mater needed his own movie. I think Mater's Tall Tales was enough, and the World Grand Prix storyline would have established McQueen's worldwide dominance, winning the biggest race cup series in the world.
    I speak much more highly of the Cars series than a majority of my classmates, but I believe that this series is one of the best series ever created, a close second to Star Wars. Cars 3 was a perfect ending to a perfect series. I can only hope that Pixar doesn't touch it again and that Cars 3 was its final project.
About the Writer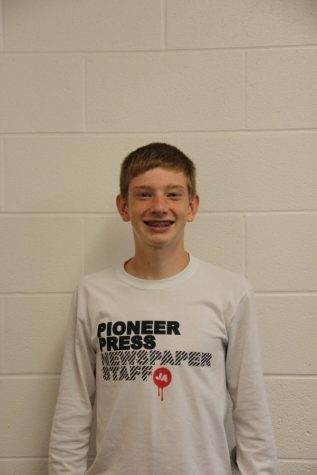 Gavin Frick, Editor in Chief
Gavin is a Junior at Jonathan Alder High School.  Gavin runs Cross Country and Track.
This will be Gavin's 3rd year with the newspaper.