Track continues to shine
Hang on for a minute...we're trying to find some more stories you might like.
    Although the Jonathan Alder Track season has had a rough start with 5 meets already canceled, the team still has managed to shine at its few meets this season.
    Within the last week, the team has competed at the Grandview Heights Bobcat Booster Invitational and the Ben Logan Invitational.
    At the Grandview Invitational, the weather was near perfect with a light breeze and shining skies. Ben Logan was the exact opposite, with frigid temperatures and extreme wind gusts up to 30 MPH.
    Despite the weather, both Boys and Girls teams competed extremely well at both meets.
    In the 800m, senior Jase Headings raced to victories at both meets. Headings also anchored the Boys 4x800m to a victory at the Ben Logan Invitational and a 2nd place finish at Grandview.
    Sophomores Gavin Frick and Luke Malone, both also on the 4x800m team, had impressive weeks. Frick started the week with a victory at Grandview in the 3200m. Next week, Malone came back and won the 3200m at Ben Logan. Frick finished right behind.
    Frick also won the 1600m at Ben Logan, with sophomore Michael Gray behind him, finishing 3rd.
    Sophomore Daniel Heinig had incredibly good showings, winning the Shot Put at both events and placed 2nd in the discus at Ben Logan. Junior Sandy Moser placed 2nd in the Discus at Grandview.
    The girls sprint relays had standout showings, racing to victories in the 4x100m and 4x200m at both meets. The 4x400m team won at Grandview and placed 2nd at Ben Logan. The girls 4x800m team placed 1st at both meets.
    Freshmen Maddie Davis and Morgan Hicks, both on the 4x800m team, had impressive weeks as well. Davis raced to 1st and 2nd finishes in the 1600m. Hicks raced to 1st and 2nd finishes in the 3200m. Hicks also placed 2nd in the 1600m at Ben Logan.
    Senior Lexi Thorpe and junior Maddy Killian continued to roll in the open 800m event, even after racing in the 4x800m. Killian placed 2nd at Grandview and 3rd at Ben Logan. Thorpe won the event at Ben Logan.
    The girls team ended up winning the Grandview and Ben Logan Invitationals. The boys team placed 2nd in both meets as well.
    The team will race in the Madison County Quad on Tuesday and Miami Trace on Thursday, barring anymore unexpected and unfortunate weather.

About the Writer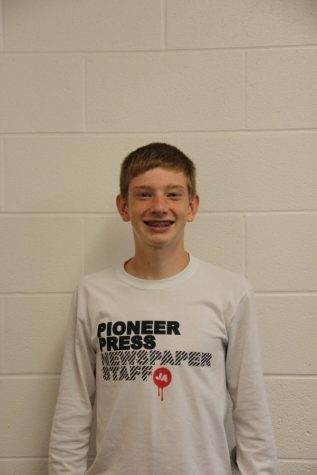 Gavin Frick, Editor in Chief
Gavin is a Junior at Jonathan Alder High School.  Gavin runs Cross Country and Track.
This will be Gavin's 3rd year with the newspaper.