Erinn Jackson wins prestigious Rotary Youth Exchange Scholarship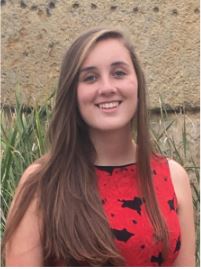 Hang on for a minute...we're trying to find some more stories you might like.
The Rotary Club of Columbus is proud to announce that it has awarded the prestigious Rotary Youth
Exchange Scholarship to Mariana Early of South High School, in Columbus, OH and Erinn Jackson of
Jonathan Alder High School, in Plain City, OH.
The scholarships, valued at over $24,000.00, cover room, board, tuition and a monthly stipend for one academic year. These scholarships are awarded for the 2018-2019 academic year by the Rotary Club of Columbus.
In August 2018, they will begin their roles as a global ambassador when they depart for their year-long exchange. Mariana's exchange will be in France and Erinn's exchange will be in Brazil. Between now and their departure date, they will be involved in extensive language & cultural training and preparation to be immersed in their new culture provided by Rotary.
Annually, 8,000 students between the ages of 15 and 18.5 years old participate in this program worldwide. The program began in the 1920's and its primary mission is to work towards peace and understanding the world. Rotary Youth Exchange is a member of the Council on Standards for International Educational Travel (CSIET), a non-profit organization committed to setting standards for international educational travel and monitoring compliance with those standards. It is also approved by the U.S. Department of State.
The Rotary Club of Columbus was chartered in 1912 and has a membership of more than 300 men and women actively dedicated to fostering service above self in their community and around the globe, and is part of Rotary Internaonal District 6690.
The Youth Exchange (YE) program in District 6690 covering central and Southeast Ohio is growing through the efforts of the YE committee, the district leadership, and individual clubs. In 2017, District 6690 RYE received, for the fifth time, the Gold District Achievement Award at the annual conference of the North American Youth Exchange Network (NAYEN).
District 6690 RYE has exchange agreements with over 25 countries and has an annual exchange ratio of 1:1 resulting in over 80 total students participating (year-long and short-term summer program). District 6690 is seeking potential host families in Central and SE Ohio for the 2018-19 academic year. The host family is responsible for providing room and board for the inbound exchange student for approximately three months. Host families are a vital part of the cultural exchange program.