Cross Country takes a Swim
Hang on for a minute...we're trying to find some more stories you might like.
    Last Saturday, the Jonathan Alder Cross Country program traveled to Watkins Memorial High School to compete in the McGowan Invitational.
    The McGowan Invitational has always been one of Ohio's premier meets of the season, however, in past years, teams have often been extremely unlucky and have had to run in horrible conditions.
    Of the past seven years, the McGowan meet has been covered in mud three times.
    This season was no different ,and the McGowan Invitational produced some of its slowest times to date. The rain started early Saturday morning and didn't stop until late Sunday night.
    Despite the conditions, Jonathan Alder ran as good as they've done, pulling off numerous upsets.
    Sophomore Maddie Davis led the way for the girls, winning the division 2 race, running an impressive 19:57. Davis won the race by 27 seconds, winning her 3rd race of the season.
    Sophomore Morgan Hicks and senior Maddy Killian followed, placing 10th and 11th respectively. Freshman Reggan Gray placed 22nd and senior Ashlyn McDaniel placed 35th to wrap up the girls race.
    The 7th ranked Jonathan Alder girls pulled off an impressive victory defeating 19th ranked Bexley by 9 points, extending the girls undefeated streak to four.
    Junior Gavin Frick led the boys team, running a 17:10 and placing 2nd. Frick nearly pulled off a victory, falling to Sheridan sophomore William Wilke by 1.4 seconds.
    Juniors Luke Malone and Michael Gray followed, placing 6th and 7th respectively. Freshman Grant Welsch and junior Zach Hicks wrapped up the day for the boys, placing 39th and 45th respectively.
    The 13th ranked Jonathan Alder boys team had an impressive day, knocking off 6th ranked Sheridan and 9th ranked Springfield Shawnee. The team came 4 points short of 4th ranked Unioto.
    The program will next race at the Galion XC Festival on September 15th.

About the Writer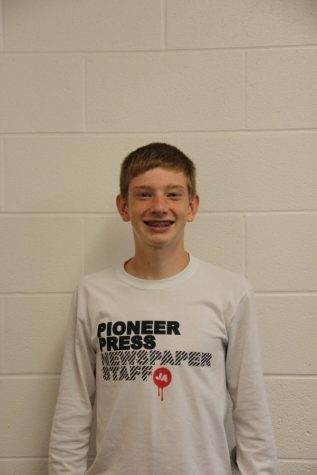 Gavin Frick, Editor in Chief
Gavin is a Junior at Jonathan Alder High School.  Gavin runs Cross Country and Track.
This will be Gavin's 3rd year with the newspaper.