Cross Country takes on the Celtic Clash
Hang on for a minute...we're trying to find some more stories you might like.
    The Jonathan Alder Cross Country team participated in the 2nd annual Dublin Jerome Celtic Clash on Saturday. This year, the races were run under the lights and the final gunshot at 8:45pm.
    The team has recently been training through many of their races and a few Varsity Boys have eclipsed 110 miles over the past two weeks.
    "We're training for November, not September" explains Coach Justin Creps when asked about the team's intense training regiment. "If we can survive these meets, we will head into the postseason fresh and ready to pop a lot of personal bests."
    Despite the team's expectations, the team ran the best it ever has under four-year Head Coach Justin Creps. With a combination of amazing weather conditions and a "home course advantage," the Pioneers were primed for a good ay.
    The Pioneers went head to head against Division 1 powerhouses such as Hilliard Davidson, Dublin Jerome, Dublin Coffman, and more and exceeded Creps' wildest expectations for this part of the season.
    The night started at 8:15 when the high school girls went out at an intense pace.
    Sophomore Maddie Davis asserted herself as a statewide threat, running a 18:40 and placing 2nd. Davis managed to break the school record, previously owned by sophomore teammate Morgan Hicks, by 6 seconds.
    Davis would lead the girls team to a Celtic Clash championship, winning the meet by 14 points over Olentangy Berlin.
    Sophomore Morgan Hicks, seniors Maddy Killian and Ashlyn McDaniel, and freshman Reggan Gray rounded out the teams top 5, all running to season bests.
    Junior Gavin Frick, like Davis, threw his hat into the state championship conversation, running a 15:53 and placing 2nd. Frick would break the 28-year-old school record, previously held by Landon Headings, who ran a 16:21 and became the first runner in Alder history to break the 16 minute barrier. Frick made an extreme jump in the State rankings, moving into 3rd in Division 2 and 22nd in Ohio following his performance.
    Junior teammate Luke Malone did a lot of the same, running to a 16:04, placing 3rd. Malone is now second in Alder school history and catapulted to 6th in Division 2 and 43rd in Ohio.
    Frick and Malone lead the Boys team to a Celtic Clash Championship, winning the meet by 11 points and defeating Hilliard Davidson, who is ranked 4th in Division 1.
    Juniors Michael Gray and Zach Hicks, freshman Colyn McDaniel and Grant Welsch, and sophomore Brady Corbitt rounded out the top 7, all running career personal records. Sophomore Caleb Freyhof and freshman Sergey Dutt and Koen Murdock also ran career personal bests.
    Following the program's monumental performance, the team plans to bring mileage down before the Pickerington XC Classic on Saturday, September 29th.

About the Writer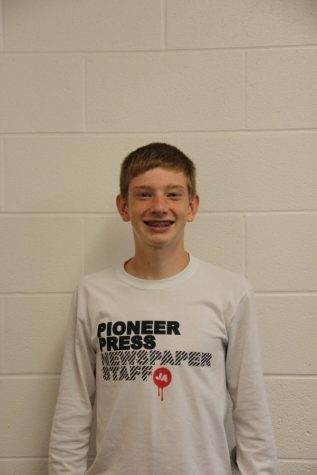 Gavin Frick, Editor in Chief
Gavin is a Junior at Jonathan Alder High School.  Gavin runs Cross Country and Track.
This will be Gavin's 3rd year with the newspaper.