A Team and a Family
Hang on for a minute...we're trying to find some more stories you might like.
"Why do we play?"  This has been a common question around the Jonathan Alder men's soccer team.  As the team passes halfway point in their season, this question still remains part of the central focus of the team.  Why do they play, why would they spend so much time and energy for the soccer team? When asked why he played, junior Cameron LaFayette said, "The reason why I play is because I'm good and I've played it forever, and I love this sport; it's really fun."
Another main focus of the team is family.  Coach Lanka often talks about the team as a family.  After every practice and before every game the team huddles up and breaks out to the chant, "family."   When you combine family and team goals, you get a black armband.
The black arm band originated when Jonathan Alder lost two students within two weeks in 2015.  It then regained significance after losing another student in a car accident about a year later, two of these three students were members of the soccer team.  The black armbands represent our peers that we've lost over the years. This year, the soccer team took a new spin on the arm bands.
This year, when players received his armband at the beginning of the season, he wrote something meaningful on it.  Athletes chose various things that will give the athlete some extra "juice" during a game. Sophomore Alan Santos was able to give some added insight on why his armband motivates him.  He said, "For me, I put my dad's name, because, he's always pushed me and he's always wanted the best for me."
David Quinonez is a former player who played on the team during all three deaths.  When asked about what the armbands meant to the team, and he said, "The armbands, at least for me personally helped a lot, because it felt like they were still here in a way and had some effect on the world."
For the past few years the black armbands have been a prominent symbol of unity and friendship in the boys soccer program.  They promote the good characteristics of our school as well as pay homage to the students we've lost. It's important that no matter what challenges arise the team remember that they're a family first and athletes second.

About the Writer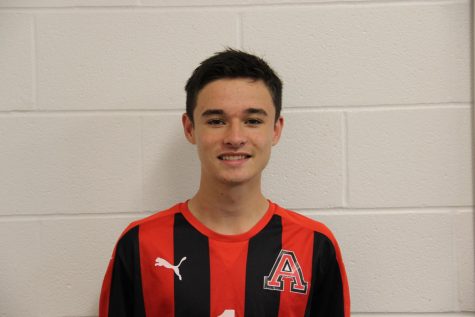 William Moore, Staff Writer
William Moore is a Junior and this is his first year on the newspaper staff.  He plays soccer for Fc42 and the varsity soccer team. Most of the time you'll...