Students Divided on Appropriate Timing for Christmas Music
As spooky season ceases, people transition from the fall and Halloween spirit to the winter and Christmas spirit, often overlooking Thanksgiving. Many believe celebrating Christmas before December is atrocious–especially listening to Christmas music before Thanksgiving. I decided to investigate this debate by asking students the very controversial question: Is it okay to listen to Christmas music before Thanksgiving?
Students seemed to be split down the middle. Out of 53 students surveyed, 47.2% believe listening to Christmas music before Thanksgiving is acceptable, while 52.8% disagree.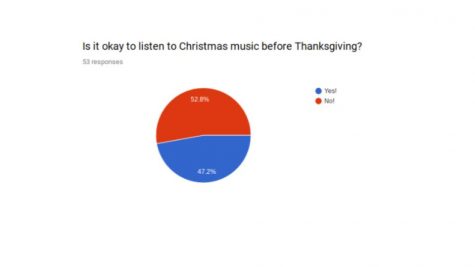 Freshman Matthew McMillen says he listens to Christmas music all year. "If any other holidays had such good music I would listen to that, but nothing tops Christmas music for me," said McMillen.
Junior Jillian Jakse defended her argument, quoting Elf: "The best way to spread Christmas cheer is singing loud to hear."
Many students believe that Christmas music brings people joy and fond memories. "Christmas music is cheerful and always puts you in a good mood. It brings nostalgia of 'the most wonderful time of the year:' the scent of fresh baked cookies, cinnamon-apple candles burning, the glowing Christmas tree, family and good times," Junior Selina Jones said.
However, many students believe excitement about the Christmas seasons overshadows Thanksgiving. "You have to enjoy each holiday and not try to get to the next one so quickly," Senior Hayden Fry said. Multiple students feel that they are skipping Thanksgiving if they begin to participate in winter festivities.

Loading ...

Freshman MacKenzie Rowe prefers to wait until winter because she believes the weather makes the music more enjoyable.

Despite the different opinions, most students enjoy the holidays for various reasons that include a break from school, family time, and the ecstatic atmosphere the holidays create.
About the Writer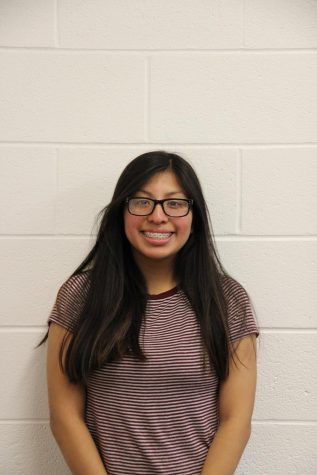 Nicole Mendez, Business Manager/Staff Writer
Nicole is a senior at Jonathan Alder. This is her first year as a member of the Pioneer Press. She enjoys shooting photos and videos--mostly of her cats....