CFB Playoff: Who's In?
Hang on for a minute...we're trying to find some more stories you might like.
    Contrary to last season, the teams still in contention to compete in the 2018 College Football Playoff are incredibly thin and a lot less rides on Conference Championship weekend. From attainable to highly unlikely, there are still enough possibilities for an roller coaster Selection Sunday.
    Alabama, Clemson, and Notre Dame all currently sit at 12-0, with Alabama and Clemson awaiting an impending Conference Championship game on Saturday. Notre Dame will finish the season 12-0, with victories over ranked teams Michigan and Syracuse. There's little debate that Notre Dame will make that playoff.
    Alabama, ranked first for the entirety of the season, has decimated nearly every opponent they have faced this season, outscoring their opponents more than 35 points a game. A SEC Championship game against Georgia looms, but even with a loss, this mighty Alabama squad should still comfortably make the playoff.
    Clemson, also 12-0, should comfortably make the playoff with a win against Pittsburgh in the ACC Championship. Without a win, Clemson would be thrown into the bubble but should still find its way into the playoff.
    That leaves four teams fighting for one final spot:
Georgia

Oklahoma

Ohio State

Central Florida
    Each team has their own case, but after Saturday's slate of games, at least two of these teams should be eliminated from contention. Here's their pitch.
Georgia
    Georgia will enter Saturday ranked 4th in the CFB Playoff and with a win against Alabama, they should make the playoff and end any debate.
    It's really "win or go home" for Georgia. It'd be hard to imagine a two loss Georgia team making it in over a one loss Conference Champion, Oklahoma or Ohio State. However, if Georgia can pull off the upset, it could even catapult Georgia into the #1 seed conversation.
    Georgia owns the resume to make it as the first ever two loss team to make the playoff, but in a field like this, Georgia would need a lot of to go their way before that conversation could be brought up.
Oklahoma and Ohio State
    Like much of the nation, after their noon matchup against Texas in the Big 12 Championship, with a win, Oklahoma will be watching and hoping Alabama knocks off the Georgia in the SEC Championship. However, Oklahoma could still crack the rankings if Georgia knocks off Alabama.
    Alabama should be in no matter what happens on Saturday, but the committee may feel pressure to place more emphasis on the conference championship games. If that's the case, Oklahoma would still have a shot to make the playoff with a win against Texas. This would pit a pair of one loss conference champions Oklahoma and Ohio State against each other and create intriguing drama leading up to Selection Sunday.
    Ohio State and Northwestern will close the night in the Big Ten Championship game against Northwestern. The Buckeyes should leave Indianapolis with a victory, but of all the Championship games, I feel as if an upset is possible. With an Ohio State victory, it would put a lot of pressure on the committee — no matter what happens earlier in the day.
    There's a very real possibility that it comes down to Oklahoma and Ohio State. If that's the case, Oklahoma should get the nod.
    Both teams would only have one loss and would be champions of their respective conferences. This would force the committee to look at their losses.
    Oklahoma's lone loss is to Texas by 3 points, whereas Ohio State's was to Purdue by 29 points. Oklahoma, with the assumed scenario, would have avenged their only loss, then defeating every team they have played.
    With a win and Georgia loss, Oklahoma should be in.
    With a Georgia and Oklahoma loss, Ohio State should be in.
    What if all three lose?
UCF
    This is where things would get interesting. If this crazy combination occurs where Georgia, Oklahoma, Ohio State all lose, the committee will be put in one of the most unimaginable decisions since the creation of the committee in 2014.
    UCF, who's winning streak spans from last season, sits at 23. With a win on Saturday, it would move to 24 and include two AAC Championships. Their less than impressive victories perfectly explain why they sit well out of striking distance of the other three teams.
    Many believe if this most unlikely of scenarios occur, a two loss Michigan team, who was beat by Ohio State 23, would jump the Knights and be the #4. That's just ridiculous.
    A two loss Georgia, who's only losses came to LSU and Alabama and outlasted a solid SEC East, is a much more likely pick to stay at #4.
    Michigan should be out. With their only losses to Notre Dame and Ohio State, the Wolverines still have yet to beat a quality opponent.
    UCF has caused turmoil across the College Football Playoff for nearly a year after defeating Auburn in the Chick-fil-a Peach Bowl and ending the season undefeated. I'd expect a little, if not, the same to happen this year.
    This doomsday scenario will probably not happen and that will likely pit UCF in the Chick-fil-a Peach Bowl, once again. If that's the case, UCF could possibly meet in-state rival, Florida, and even without star quarterback McKenzie Milton, UCF could still pull off an upset.
Postseason Predictions:
    A lot can happen in between now and Selection Sunday; however, not much will change. Unless Ohio State significantly impresses the committee's opinion of them, Oklahoma should be the next team up.
Big Ten Championship: Ohio State over Northwestern
ACC Championship: Clemson over Pittsburgh
SEC Championship: Alabama over Georgia
Big 12 Championship: Oklahoma over Texas
Pac 12 Championship: Washington over Utah
AAC Championship: UCF over Memphis
College Football Playoff:
#1 Alabama over #4 Oklahoma
#2 Clemson over #3 Notre Dame
National Championship:
#1 Alabama over #2 Clemson

About the Writer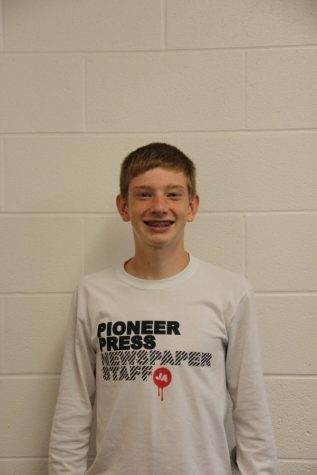 Gavin Frick, Editor in Chief
Gavin is a Junior at Jonathan Alder High School.  Gavin runs Cross Country and Track.
This will be Gavin's 3rd year with the newspaper.