How to Ace your Exams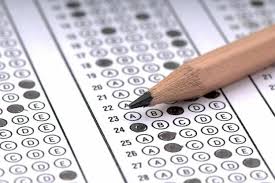 It is that time of year again! Everyone is hanging their Christmas ornaments and eating their candy canes, but this season also comes with the present of end-of-semester exams. Yes, we all know the feeling when we hear that exams are creeping up on us, but don't be too nervous because here are some tips and tricks to help you ace your exams.
The feeling when you sit in front of one of the biggest test of the year isn't the best. Some people gain anxiety and other people get really clammy.
According to "Test Anxiety from kidshealth.org, you can gain a headache and your muscles might tense up, but methods to get rid of these symptoms are very simple: take deep breaths, study the material, speak positively, and get 7-8 hours of sleep before the test.  
Senior Kenley Geitgey said, "I've passed every exam so far and this should be the case for this year too. They're not as overwhelming as they're made out to be."
Geitgey explained that she isn't excited for this to be her last exam in high school because that means she has college exams next.
Exams are big tests that are made by every teacher for every class. Some of the tests can be very simple and easy but others may be a little more challenging.
During the three days that exams take place, Alder has a different schedule.
If you don't have an exam during one of the periods of exams (for example a study hall) then you may leave with a permission sheet filled out. However,you may not leave school and then come back to take another exam.
The schedule is as follows:
Tuesday, December 18

Wednesday, December 19

Thursday, December 20

7:30-9:15 1st period

7:30-9:15 2nd period

7:30-9-15 5th period

9:20-11:05 3rd period

9:20-11:05 4th period

9:20-11:05 6th period

11:08-11:48 5a lunch/SH

11:41-12:11 5b lunch/SH

12:14-12:44 5c lunch/SH

11:08-11:48 5a lunch/SH

11:41-12:11 5b lunch/SH

12:14-12:44 5c lunch/SH

11:08-11:40 Lunch

12:48-2:34 7th period

12:48-2:34 Make-up Exam/Student study session

11:45-2:34 Make-up Exam/Student Study session