Battle of the Bands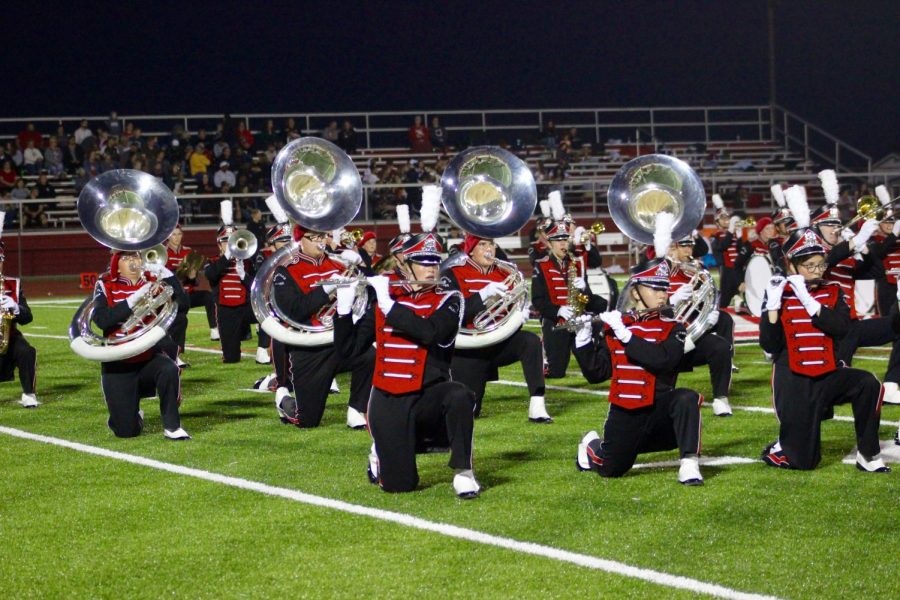 "Pioneer Press, hey it's Ethan Gutierrez," Marching Band Student Director Ethan Gutierrez swallows his remaining bites of hotdog. "Oh wow, I'm so honored to be here, this night is great. It's going to be really good, yeah It's going to be a great night. I'm sure we're going to do really well. I'm really excited. So proud of everyone who has done everything this year, and it's going to be a great rest of the night. Yeah, let's kick some butt, thank you." Saturday, September 21st was the Second Annual Jonathan Alder Band Show, a gathering of bands from around Ohio to show their halftime shows to other bands and to those who are music fans. 
Jonathan Alder's band has been looking forward to this event for a while now. Last year was the first band show, and the group was excited to show their growth. Freshman Annson Pagura said,  "I am looking forward to how well we do this performance like this is going to be so much fun and we're going to kick butt. This is going to be the best performance we–and specifically, I'm going to do because I'm going to try my best." 
"It's going awesome. All the bands are doing really, really well and we're having a great time," said Student Director Madison Shaw. "Mingling with everybody and sharing our passion has been fantastic." 
A definite crowd favorite was the Columbus School for the Blind's marching band, as Senior Grace Palmatary said, "[My favorite was] Definitely school for the blind. I really liked the Braille script Ohio, it was really creative." 
The Band was a favorite even among non-music students. Senior Reagan Gargac said, "I really loved the band for the school of the blind. It just… wow!" 
The musicians from The Columbus School for the Blind learn music without sight. "I learn by ear," said Philip, a student at the school, "but some of us who can see a little bit use print music, and there's also Braille music, and sometimes we just get told the notes."
After the show was over, the Jonathan Alder band had a dance party on the field. Jonathan Alder band director, Mr. Hennig commented, "The marching was there, the snap was there, the sound was there. It was just phenomenal. I was so proud of the students to see that they were working truly as a unit tonight, and that's what we're all about." 
Assistant band director Scott Jones said, "Oh my god thank god it's over, [laughter] no, it was an awesome night, all the bands were fantastic- so proud of JA band too." 
All of the directors seemed to agree that this was one of the band's best performances. Miss. Lewis said, "The band's performance tonight was on fire, everyone was hitting those turns, everyone was hitting those notes. I'm just extremely proud of everything these kids [have] accomplished and to think it's only halfway through the season, and we have so much more that we're going to accomplish and I'm just so thankful to be apart of this program and to be apart of this team and- Go, Bucks." 
Many of the graduated marchers were proud of the band's growth and how together the band's sound and marching was. Returning marcher Aubrey Wright reflected, "I think they get better every year and I'm just so proud of them." Alice Kaizer, another returning marcher, agreed. "You guys were baby angels."
As the band turns toward the future of the band show, band parent Job Shaw said, "I hope that more bands come out next year and we make it even bigger and better than already is."
The band's next home performance will be on October eleventh.
About the Writer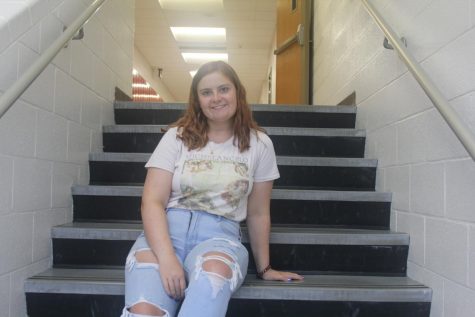 Madeline Frambes, Editor-in-Chief, Staff Writer
Line Frambes is a Junior at JAHS, and this is her first year with the Pioneer Press. She enjoys practically anything involving music, from band to choir...