Student Athletes Take Talent To Next Level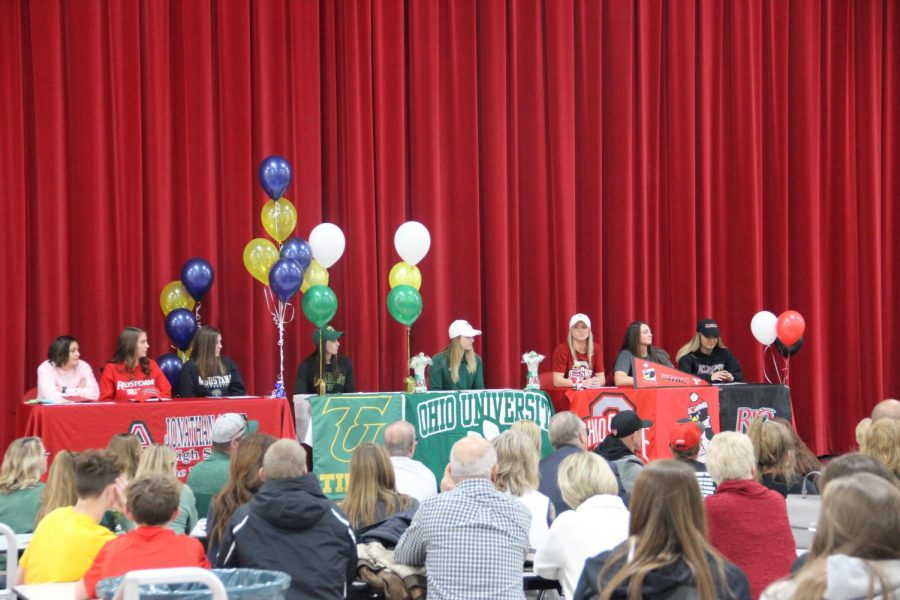 The idea of the infamous "next level" can intimidate some athletes, but to others it inspires, motivates and drives them to pursue their dream. On Wednesday November 20th, eight seniors signed their contracts to play at the next level. Four of Alder's finest softball players (Jillian Jakse, Cierra Clark, Emily Walker, and Lidnsey Potter) have officially committed to Youngstown State University, University of Rio Grande, Ohio University and the Ohio State University, respectively. The two senior volleyball players, Mckenzie Wright and Kyli Ricker, signed to Indiana University Southeast and University of Rio Grande. Elise Dygert represented the JA swim team as she committed to Augustana University, while Sydney Bourquin signs to Tiffin University to further her basketball career. 
Having the role of being a student athlete can be frustrating and difficult-trying to juggle practices, games, homework, tests and quizzes, good attendance and then still being able to make time to go grab something to eat with your friends. There is no doubt that it is difficult and it can be very stressful, but they have made it all pay off.  
When picking a college, factors  like how far away it is, the size, the people, professors, and if they have the right major can affect the final decision. "I chose TU because I felt that it was the best fit for me academically and athletically,"  said Tiffin University committ Sydney Bourquin. "I loved the supportive atmosphere and unity of all the student athletes. I could just see myself playing there,"Obviously the next four years for these athletes are also about finding their career and what they are going to do in the world. Volleyball, softball, basketball, and swimming are only the next four years, but the education of the student is for the rest of their lives. It also can be very difficult to decide what you want to study. The average college student changes their major three times, and some even go into college as 'undecided' but that is completely okay. It takes time to decide and it should because at the end of the day it is a big decision.  Bourquin said, "I am still undecided, but I have narrowed it down to a few possible majors- communications, digital media, and sports management." University of Indiana Southeast commit McKenzie Wright has a more specific plan. "I would love to major in English Education and minor in French so I can maybe be an English French teacher, living in France! That's my dream," she said. 
The idea of going to college can be scary and intimidating to some, but to others it can excite and motivate them. Wright says, " I think I am most excited about being apart of something because I know some people can feel lost when they go to college. I'm just excited to have friends and constantly being challenged. I'm also looking forward to school and how I can study what I actually want to." 
For Bourquin, she is excited because she has finally "accomplished [her] goal of playing at the next level, which has been [her] dream ever [she] was little." 
Many other student athletes in high school also have a desire to play in college. These athletes start what is called the recruitment process, which is when the individual reaches out to as many colleges out there and tries to get interest from coaches. This is done by communicating with the college coaches via email, texts and phone calls. The student athlete will share film to showcase their talent for their sport as well as sending scores and grades that represent them as a student. Cornell University football commit Connor Morgan started the process and now he has successfully taken his next step. Morgan did not sign on November 20th with his fellow classmates, but he plans to make it official very soon. Morgan said, "I would tell [student athletes in recruiting process] to relax as much as possible and to enjoy the process through the stress. And to enjoy all the love you'll receive in the process. Just keep playing your game and keep a positive mindset and everything will work out." Making this decision is not easy and the only thing that makes this process better is staying true to yourself. Morgan continued to say, "Understand what your ultimate goal is and understand where you are a priority at and what school is going to make you the happiest." 
There will be another signing day held at the highschool sometime in early March. This day will allow other student athletes from JA to represent not only themselves and their hard work, but also their school where they will take their game to the next level. 
About the Contributor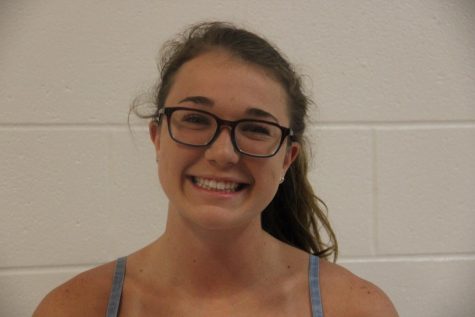 Emma Shepherd, Sports Editor, Staff Writer
Emma Shepherd is a Senior at Jonathan Alder High School, and this is her second year on the newspaper staff. She plays on the Varsity volleyball and basketball...