The Striking Bowling Team at JA
Hang on for a minute...we're trying to find some more stories you might like.
When mentioning bowling, many people think of Wii bowling or children's birthday parties, but to the bowling team, it's so much more. Around thirty students participate in the school's bowling team and "spend multiple hours a week in there trapped with a bunch of people" says sophomore bowler Mathew McMillian. Currently the Varsity teams "remain undefeated improving to 8-0," according to the team's recent FaceBook post, "Ladies bowled their season-high team scores… Boys struggled at home for the first time but managed to grind out the win."
There are multiple reasons to bowl, but some of them are that students are encouraged by family. "My whole family bowls, my grandpa, my uncle my dad all teach the team so they kinda just threw me in there," says sophomore bowler Kadie Walter.
Others are encouraged by friends, "I was forced in by a couple of my friends from soccer when they noticed I was doing to other sports so why not do a third one and get twelve seasons," says McMillian
Many on the team say that the season has been going well. "It's been pretty good," said senior Josie Campbell. "All the teams but Varsity boys are undefeated." Although some beg to differ: "At the beginning, we were doing great and at the moment we were struggling," Walter said, "but it's slowly getting better." 
What sets bowling apart from other sports is the comradery and bonds formed in the team, "everyone wanting to help each other, it's a very kind and caring place," said McMillian. The differences continue with the structure of the team: "We have a lot of different coaches so they all have different ways of teaching you and you get a lot more experience," says Walter.
Many associate the bowling alley with the animations on the screens according to the thousands of memes across the internet. When asked about them Walter says she has, "no idea [what's up with them], I wish I could change them, to be honest." Although a good laugh, they don't affect the team's success, as the varsity teams remain undefeated and many of the seniors are bowling clean games.
Some of the team are looking forward to sentimental events such as, "spending time with our seniors," as Walter said. Some look forward to measurable achievements such as, "Probably upper-end tournaments, [and] participating with the varsity in those tournaments," McMillian says.  
"Going to states, I think that that's a real possibility this year," says Campbell. If you want to see this succeeding team, attend the next match on Wednesday, January 8th at 4:00 PM at TP Lanes in Bellefontaine.
About the Writer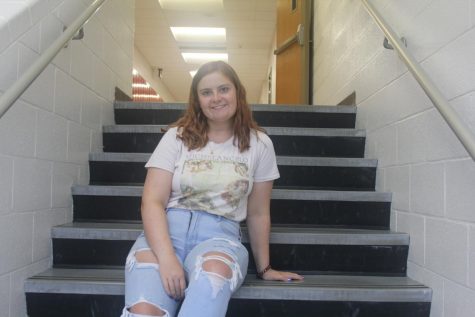 Madeline Frambes, Editor-in-Chief, Staff Writer
Line Frambes is a Junior at JAHS, and this is her first year with the Pioneer Press. She enjoys practically anything involving music, from band to choir...