Toughest Club Ever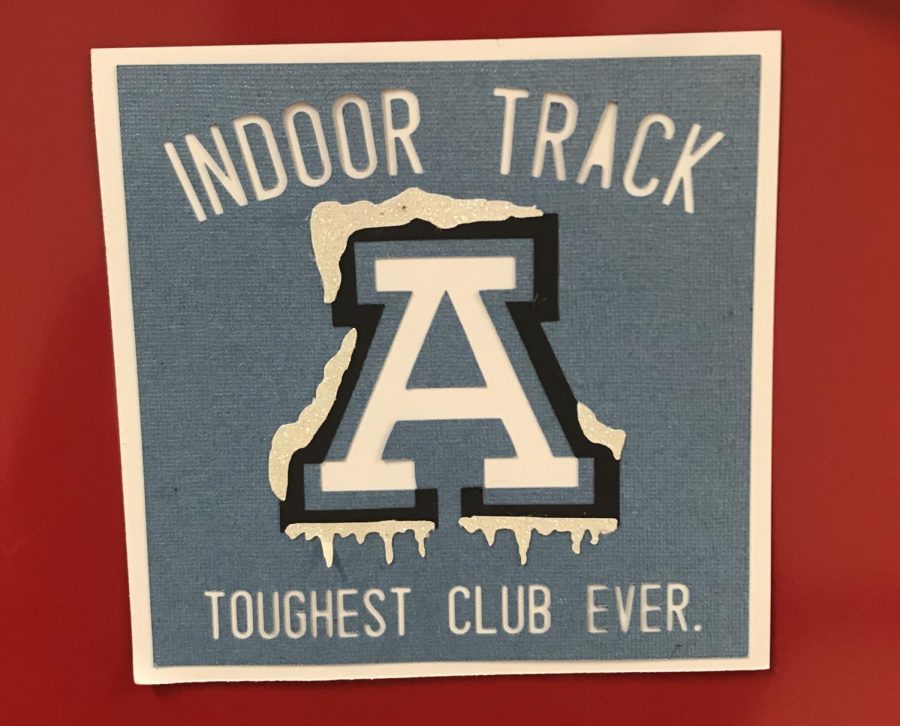 All around the school, lockers are covered with decorations and locker signs. These signs define the student in what activities they are involved in. This year, a light blue, icy "A" is taped to some lockers with the saying "Toughest Club Ever."
The Indoor Track team is in the midst of their third season ever as a club sport representing Jonathan Alder. As always the main goal is to qualify for states and to hopefully podium. Seniors Emily Walker and Helena Hall are two of the runners on the 4×200 relay team and they both shared that they have been training and working very hard to have a 4×2 spot on the podium at the state meet. 
"Get better, have fun, work hard" is something that is repeatedly said by all runners and by coaches on the team. This motto was developed to help keep minds off of the tough obstacles and to keep spirits up because even though the sport requires hard conditions, you can still "get better, have fun [and] work hard." 
"Coach T-Mac helps us a lot meet our goal times, but when we celebrate he tells us 'You can be happy but never satisfied.'" This is because the coaches of the team are always looking forward to the next rep and the ones after the next. The point of coach T-Mac (Tyler Macintosh) saying this is that he wants the runner to be happy they met the goal but never be content because there "are still more goals and faster times to be met."
Even though it is an indoor sport, the team still practices and trains outside on the track at Performance Stadium behind the high school. Through rain, sleet, snow and freezing temperatures, the team is still getting reps. "Sometimes we can't even move because we have so many layers on, but we still have to meet our times regardless," said Hall.  
The main purpose for indoor track is not only to stay in shape for outdoor season or maybe even cross country. For senior Emily Walker, she uses it as a growing opportunity to get faster and stay conditioned for her softball season as well as her college softball career: "…sprinting helps me get ready to run bases and react quicker to be able to field ground balls. But I also do [indoor track] because I love the team and the atmosphere." 
Not all outdoor track athletes run indoor. "Only the best and the more competitive runners run indoor," says Walker. If a runner is dedicated and truly wants to get better and compete then they will run indoor. 
Especially because of the conditions for training, indoor track is demanding and not for everyone.But if someone is wanting to get better for the coming seasons and is dedicated they will push through whatever in order to succeed. Helen Hall states, "…you do indoor track, you work hard."
With that being said, Junior Brady Corbitt stated, "Because the better runners and more dedicated runners do indoor, the playing field is more competitive. When we go to meets it is way more competitive because it's the runners that take it as seriously as we do." 
That, however, is not the only difference. For outdoor track, the team runs on a 400 meter track, while in indoor it is only a 200 meter track. That means double the laps, but on a shorter track, that can still get exhausting. Corbitt explained, "For the mile race, you usually run 4 laps outside, but in indoor you run 8 laps. And for the 3200 you run 16 times around the track inside." 
Even though this is only the third year of the sport at Jonathan Alder, the program has changed and grown so much. According to Walker, during the first year there was only sprinter on the team, and it was her, and now there are over a dozen. "The team has definitely grown a lot because there are more people. But there are for sure more girls than boys on the team" said Hall. 
The next meet is at Bowling Green on Sunday, February 16th. The team competes at districts on Sunday, February 23rd at Capital University.
About the Writer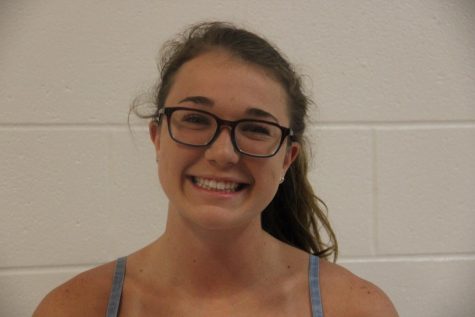 Emma Shepherd, Sports Editor, Staff Writer
Emma Shepherd is a Senior at Jonathan Alder High School, and this is her second year on the newspaper staff. She plays on the Varsity volleyball and basketball...