Movie Review: Hubie Halloween
Hubie's not the most popular guy in Salem, Mass., but when Halloween turns truly spooky, this good-hearted scaredy-cat sets out to keep his town safe.- Netflix
As Halloween approaches, scary movies start to become popular and the more prominent on tv, and streaming sites. So when Adam Sandler came out with his idea for a Halloween movie one might be ecstatic, for he has produced some gems: Billy Madison, Grown Ups, The Wedding Singer, 50 First Dates. Sandler created the Netflix Original Hubie Halloween, which was released to the public on October 7th. The main character Hubie has to take matters into his own hands and save his hometown Salem from a mysterious kidnapper. From the start, it is  known that Hubie (Adam Sandler) is not liked by anyone in the town, but that doesn't stop him; he cares deeply about his town and the people who live there.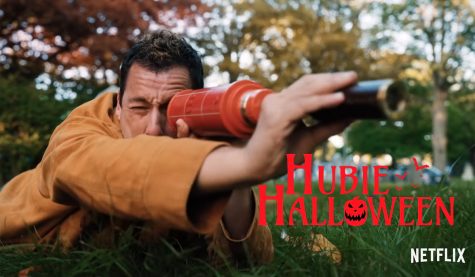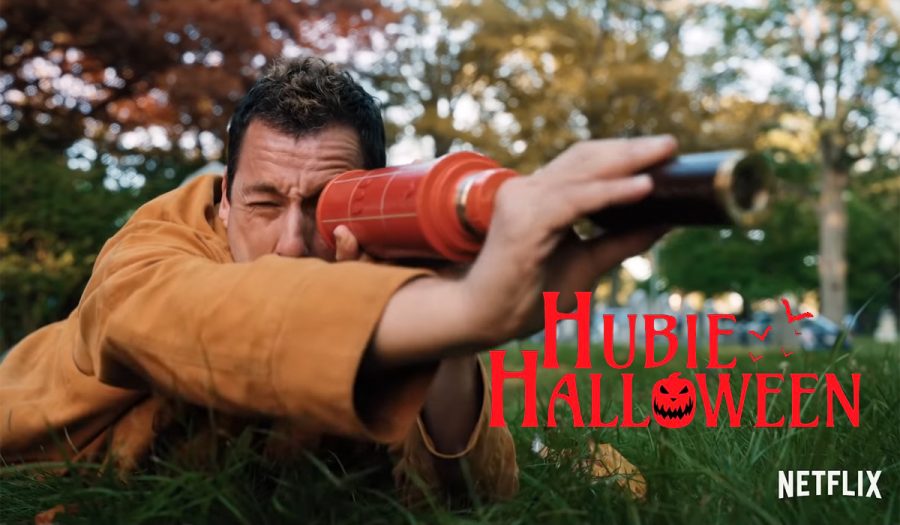 Sandler went back to his early career kind of characters like Billy Madison in Billy Madison and Bobby Boucher Jr. in The Waterboy. Like any other Happy Madison production, Rob Schneider, Colin Quinn, Kevin James and Dan Partick star in the movie. While he keeps his squad together, they didn't get much screen time, for the movie is centered around Sandler's character. 
Sandler decided to add some extra things to the movie, like having a podcast narrate the story and give insight to what is happening in the town of Salem. Bringing Halloween to life, he added in two characters who believe they are werewolves; they escaped from an insane asylum. These werewolves
Playing pranks is a major part of the movie and how most characters are introduced. The set-up of the film is very different from Sandler's more recent ones; it makes you feel like you're watching a Halloween version of The WaterBoy. One way he does that is with the mothers: Mrs. Dubois (June Squibb) is a close replica of Helen Mama (Kathy Bates) in The Waterboy. The sons in both movies have a close relationship with them, and the mothers want to protect their sons from the world. 
As the movie progresses, Sander brings to life the typical boy pining over a girl (Julie Bowen). Her character, Violet Valentine, runs into Hubie all throughout the movie, making this a typical Happy Madison production of the silly, dim witted guy getting the girl. 
Hubie carries around a thermos that acts as his right hand man in everything–it keeps his soup nice and hot, but also serves as a grappling hook, flashlight, telescope and so much much more. He brings it everywhere he goes and it is a part of him, helping him all throughout the movie. This is another thing that Sandler does for his movies– the characters always seem to have something they carry around that helps them progress throughout the movie. 
Sandler did dedicate the movie to Cameron Boyce; an actor who has played in many of his movies. Boyce was supposed to play in Hubie Halloween but was not able to because he died in a tragic accident in July of 2019. He got together many of Boyce's friends to play in the movie, including Karan Brar and Peyton LIst, who played in the Disney TV show Jessie with Boyce. To dedicate Hubie Halloween to Boyce, Sandler knew he had to go all out, which meant getting some of Boyce's friends to play in the movie, at the end of the movie he wrote "Gone way too soon and one of the kindest, coolest, funniest, and most talented kids we knew. You live on forever in our hearts and are truly missed every day." 
While Hubie Halloween isn't the greatest Sandler movie, it is still quite a good kid friendly movie with lots of laughs. So if you find yourself bored on Halloween Hubie Halloween might just be what you need to have a good time.