When Should We Start Decking the Halls?
Rising out of a Halloween candy-induced coma, 2 types of people emerge. Those eagerly overflowing with Christmas cheer, and those who refuse to pull out the garland and bells before Thanksgiving has had its chance to shine. The great debate: to ho ho ho, or to ho ho hold up.
To be completely transparent, I have my Christmas playlist on hand throughout the entire year, and once spooky season ends, I waste no time in my preparation for the holidays. 
The first step in my process is to gut my room of any decor that clashes with my incoming seasonal theme. I then venture to the storage room of Christmas past and dig around until I find my big white tree and the red rubbermaid bin filled with other festive knickknacks. The Christmas season flies by quickly, so having a decked out room early in November makes it feel just a little bit longer and more special.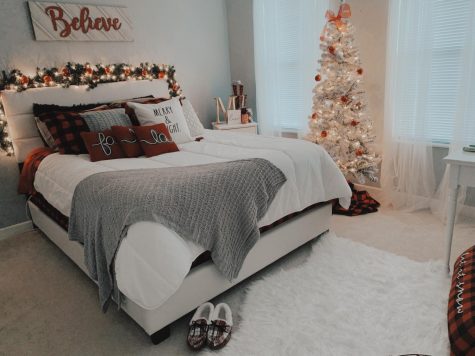 Though you may be cringing at the idea of such a premature celebration, studies show that decorating for Christmas early leads to a spike in serotonin levels: the happy brain chemicals. In an interview with the Today Show, psychologist Deborah Serani explains why having your Christmas tree lit prior to December contributes to joyful feelings.
"If you're someone who has happy childhood memories of the holidays," Serani says, "then you're more likely to want to re-create that feeling sooner rather than later." 
One of my favorite recurring Christmas memories is when the malls make their long-awaited Christmas debuts. There's nothing more exciting than getting some early seasonal shopping done while Mariah Carrey belts over the speakers, and Bath and Body Works suffocates customers with their peppermint scents. 
Speaking of peppermint, it's never too early to get your hands on a peppermint mocha. On November 6th, Starbucks released their holiday drink and treat menu, and the widely-adored and anticipated Christmas cups. On the day of the launch, customers were even gifted a free and festive red cup when a holiday drink was purchased (and yes, you can already assume there's one in my cabinet as we speak). 
If the exciting Starbucks menu and cozy mall experience hasn't convinced you to start decking the halls already, maybe the Hallmark channel will. On October 24th, Hallmark released their first movie of the season, Jingle Bell Pride, a heartwarming story of a wedding planner finding love in a wintery Alaskan town. Since then, countless more have been released. Don't let the cheesy Christmas romantics go to waste!
It's too early to tell if 2020 will share the same positive character development as the Grinch by the end of the movie, but regardless, there's plenty of ways to find peace and joy this Christmas season despite how early you start celebrating. Spending quality time with loved ones, downing a few eggnog lattes, or chilling by the fire will all undoubtedly lead to a memorable holiday celebration.