Q/A With Morgan Hicks
In and outside of the classroom, senior Morgan Hicks has always surpassed expectations placed on her. Throughout her time at Jonathan Alder High School, she has shattered past records held by previous students for years and has done so with grace and gratitude. Her teammates, coaches, friends, and family all mean the world to her. Hicks looks forward to her future and hopes to inspire younger students. 
Q- How long have you been running? What got you into the sport? 
A- I started running cross-country in the 7th grade. Before that, I had participated in local 5ks and fun-runs, but nothing too serious. I didn't really know anything about cross-country until my older brother joined the team in junior high. He had such a great experience with it that he and my parents really pushed me to run, too! I remember being very resistant to it at first because it was kind of hard to transition to running every day, but ultimately I'm really glad that they made me do it! 
Q- What's the greatest piece of advice that a coach or a teammate has given you?
A- My coach once told us "to accept where you are and then take responsibility for where you want to go." That mindset has been really helpful for me in a lot of different areas in my life. 
Q- What's the most memorable experience that you have had with cross country or track?
A- There's so many! I'd say that the state track meet my freshman year would be the most memorable. Our 4×800 team placed state runner-up and it was really fun to be a part of that. Winning the 3200 at the state indoor track meet was also a very memorable experience.
Q-If you weren't running, how do you think you'd be spending your time?
A- That's a hard question! I really like being active, so if I wasn't running I'd be doing some other aerobic sport, like swimming. Outside of sports, I enjoy reading and hanging out with my friends and family, so I'd be spending my time doing that as well. 
Q- What motivates you to continue pushing-through during a race?
A- My team, hands down. I also like seeing personal improvement in my times and placement as the meets go on, so that's an extra motivator too. 
Q-Do you wish to continue running in college? Why or why not?
A- Definitely! I actually just committed to run at the University of Toledo. I decided to run in college because I love running and being a part of a team so I want to continue pursuing those things for as long as I am able to. I also think it's really cool to have the opportunity to compete at the next level! 
Q- What's your mindset look like before an important event/race? What's going through your head, and how do you keep yourself calm?
A- I try to have a very calm and relaxed mindset. Sometimes I get nervous right at the starting line, but I just try to remind myself that I've done plenty of work to prepare for the race so all I have to do is try my best! It also helps me to think about what pace I'm aiming for and what teams I need to look out for. Having a plan going into the race is really beneficial for me mentally. 
Q- If you could give a piece of advice to your younger self, what would it be?
A- I would tell myself to stop stressing so much! When I was younger, I used to be so discouraged and disappointed in myself over every bad race. That kind of mindset can really take the joy out of running, which is why it's so important to be able to shake it off and move on when things don't go as planned. I'd also tell myself to keep my nutrition in check! I've had a lot of issues with an iron deficiency that could have been avoided if I remembered to adequately fuel myself after workouts.  
Q- In terms of Cross Country and Track & Field, what are some items that you cannot live without?
A- Icy Hot (I put it on before every race), my spikes, my roller, and nuun tablets (they're full of electrolytes!)
Q- Have you ever struggled with balancing your schoolwork and athletic endeavors? If so, can you explain how you learned to find that stability? If not, how do you keep yourself "on track" with your assignments?
A- Sometimes balancing schoolwork and athletics can be difficult, especially during track season when we have a lot of meets on weekdays and don't get home until later at night. Something that has really helped me is making to-do lists and setting goals for what assignments I'd like to accomplish each day. That has also really helped me avoid procrastination, which is something that I've struggled with too. But overall I don't think that it's been too hard. On most days, practice is only from 3:00-5:00 so I usually have plenty of time to work on homework in the evening. 
About the Writer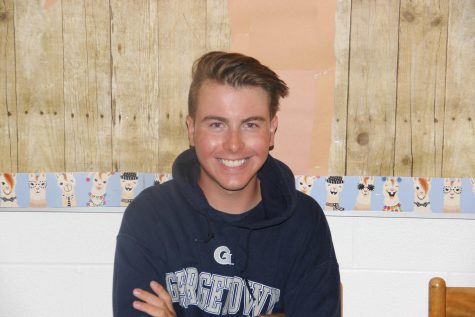 Jack Baird, Editor, Staff Writer
Jack Baird is a Senior at Jonathan Alder, and this is his second year of being apart of the Pioneer Press. His favorite hobbies include reading the news,...