Looking Back On Our Last Season
"I am not sure what is going to happen. I am not sure if we will have a season. But I can tell you that I and we will do everything we can to make sure we do," Coach Ross said. I looked around at my fellow rising seniors, knowing that things weren't looking good. It was April. All spring sports had been cancelled, and we weren't confident that we'd have a season. 
But the season–thanks to a persistent and driven athletic department–did happen. To the volleyball team, this meant everything. 
"Last year we knew we should have been in that Final Four. We should have won that game," says senior Grace Nees. 
This season for us is a redo of last year,  a redemption season, and the final season for the 7 of us who are seniors. 
***
Last season, the volleyball team lost two seniors, which meant we were able to bring back most of our starting line-up. This helped Coach Ross direct his plan forward. "Bringing almost everyone back for a second season, it was so nice," he says. "Even with restrictions, we started at a higher level because we had so many people back. So many of the players came in [to practice] with so many good things."
Despite the strong team, COVID made for an uncertain season. "I remember [coach Ross] coming to practice a lot with names of schools and volleyball teams that would not be competing for a few weeks due to COVID," says senior Kennady Izzard. If a player on a team was to test positive or have symptoms of COVID everyone around that player would have to be quarantined, leaving that team not able to compete at its potential. 
"The further we got into the season, the more scary things got," says senior Grace Nees. "No one wanted to mess it up or be that one person that gets the season shut down." 
Once the tournament started, Ohio High School Athletic Association (OHSAA) came out and said that if a team has a run in with COVID during tournament time, their game is automatically forfeited and their season will be done. And, if a team was already in quarantine and their 2 week suspension overlapped with the tournament, that team would not be allowed to compete. 
"It all went by so fast," says senior Ava Francis. Before we knew it the end of the season was approaching, which meant Senior Letter Day, the last practice that all three teams (Freshman, JV and Varsity) have together and all of the seniors write a letter to Alder Volleyball, which they read in front of the entire program. 
"We all talked about what Alder Volleyball means to us and how it has shaped us the past years. It was very emotional, for everyone, but it was the coolest thing ever," says Izzard. 
Not only has Alder Volleyball taken a toll on the players and seniors, but also head Coach Ross. 
"Alder Volleyball gave me hope," said Ross. "Despite everything going not as they should, the team truly gave me and so many other people hope. Alder Volleyball is passion, energy, kindness and love because of the girls within it."
***
Senior Letter Day marks the start of the postseason and beginning of ends. Without hesitation, we took down opponent after opponent to make our way to the District Final game against State Runner-Up Highland, which was held at Alder, for our last home game. The Pioneers swept Highland in 3 sets and never looked back. 
"It was the best I have ever seen us play," says Nees. "We took on the State Runner-Up team from last year, on our home court and completely destroyed them in 3. I think it sent a message to the rest of the teams left, that 'hey we're Jonathan Alder and don't count us out.'"
The District Final win carried us into Regional semis, where we took on Dover at Pickerington North High School. We came out on top but did drop one set. Although a win is a win, this particular one left a bad taste in our mouths leading up to Regional Finals.
"I don't think we played like ourselves against Dover. There were glimpses of us but it was never steady, like always," says senior Kate Stroupe. "We took that win and capitalized on it in the next game. We didn't want to play like that again and we didn't."
The Pioneers defeated Thornville-Sheridan in 4 sets to claim their spot in the Final Four, and we were ecstatic.
"There is nothing that will top that feeling. That feeling of heading to the Final Four was truly the best," says Stroupe. 
With everything going on this year and everything all fall sports had to go through, it was important to appreciate the little things. Coach Ross made sure to remember all of the moments that the Regional Final game created. 
"Once set 4 of Sheridan ended, I just sat down. I wanted to take it all in. I had a front row seat to not only the game but also the dogpile at the end. I watched all of those moments of joy and love unfold," says Ross. "That was my goal all season, to soak it all in and to remember us and everything because it was so hard to get through it all."
***
Our next game was the state semi final game at Vandalia Butler High School, which ended up being our last game of the season. Notre Dame Cathedral Latin High School, a Catholic/Parochial school from Cleveland, won in 3 sets and we said goodbye to our chance at playing for a state championship 
"It all just ended so quickly, it was so surreal and weird," says Izzard. "When the season ended I didn't see or talk to most of my teammates or coaches for a while. With all of the COVID things happening in the same time span, it was hard to have an actual ending to our season. It's like it ended physically but never emotionally."
"Without a doubt, I will miss the time spent just talking with the girls the most. After quarantine, we were all just missing and craving that human interaction. Volleyball gave us that and that's what I will miss the most," said Francis.
Despite the abrupt and upsetting ending to our season we have so much to be thankful for. I think that this whole season was really a blessing in disguise. Regarding to COVID and everything we had to get through it honestly made us stronger as people, players and as a team. This season made me appreciate the little things more. Alder Volleyball made me and my teammates appreciate the little things so then we could make the big things possible. I will always love and cherish Alder Volleyball, the dream team of 2020 and the six other girls that I finished with. 
About the Writer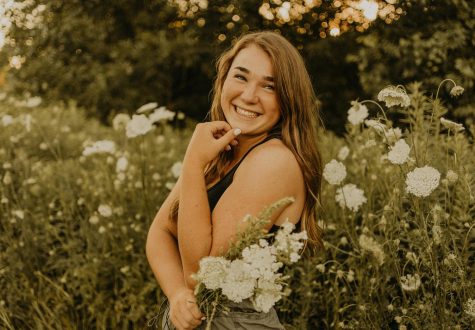 Emma Shepherd, Sports Editor, Staff Writer
Emma Shepherd is a Senior at Jonathan Alder High School, and this is her second year on the newspaper staff. She is a captain for the Varsity volleyball...