JA Bowling Teams wraps up a Successful Season
The Jonathan Alder Bowling teams have had an impressive season so far, but they are one of many sports teams to be affected by the COVID-19 pandemic. As the bowling teams move further into the postseason, members reflect on their season and what it's been like with COVID.
Doing any sport in a pandemic is going to be different, but bowling has been largely affected. Senior Lana Kirts says, "During the matches, both home and away teams are separated and on different lanes when previously they would be on the same lane. They only allowed for 1 spectator for some of the matches." 
In addition to limited spectators, the amount of bowling equipment that can be brought to matches is limited, too. "Covid guidelines restrict us to the number of bowling balls we can bring to each match or tournament, which makes it harder for us to adjust to the oil patterns on the lane," junior Dominic Dellapina says. 
According to the bowling team, the amount of competitions has also been limited. "JV has been to two tournaments," says senior Jon Santini. "We had a tournament yesterday and we had a tournament a while back. The varsity team has been to four I think." In a usual season, both teams go to at least 5 tournaments, with varsity usually going to more than JV.
Not only has the number of competitions been reduced, but the competitions themselves have been changed significantly. "Before, the girls would compete on one side of the alley and the boys, the other. Now, the boys and girls teams from each school share a lane pair," Dellapina says.
More typical bowling team activities are prohibited this year because of Covid. "We are not allowed to high five or do cheers," junior Shea Huntington says. 
"I actually like this new rule quite a bit," Dellapina says in regards to the banning of cheers.
Despite all of these limitations, both the girl's and boy's varsity teams were able to perform well. "The boys ended the season with a 15-1 record, winning our conference, and we won the district tournament," Dellapina says. The girls team is on its way to states, and senior Nathan Clark is as well. 
"We had some ups and downs at some tournaments but we ended up persevering and getting better and better every time," Kirts says about the girl's varsity team
The JV team has had a harder time, according to Santini. "For JV, we have three people that just joined," he says. "The JV team last year was kind of stacked, a lot of the guys on varsity this year were on JV last year, so we had a really really good JV team last year and we kinda lost all of them and then we had to start up with new people and try to re-build that."
Santini is hopeful for the next season though. "And they've gotten better, so that means we should have a better JV team next year," he says.
The postseason is something to look forward to, according to Kirts. "It's always nice to just go in and fre practice with friends and not have an actual practice," she says. "There are always tournaments that they host outside the bowling season for the postseason that are fun to compete in. You can see people you know there [that aren't on your team] and maybe even have a chance to bowl with them."
The states tournament for the girls team is March 5th, while the boy's tournament is March 6th. For livestream information, go to the bowling team's Facebook page.
About the Writer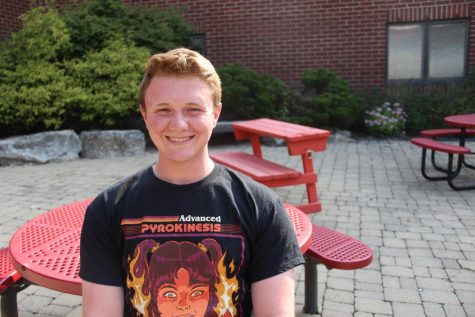 Jackson McCoy, Staff Writer
Jackson McCoy is a sophomore at Jonathan Alder High School, and it is his first year in journalism. If he was a scented candle, he would be the scented...