Q/A With Zachary Russell
Zachary Russell, a senior attending Jonathan Alder High School, has big dreams and even bigger aspirations. Russell, in the midst of the college recruitment process, hopes to finalize his Track and Field commitment choice in the coming weeks. He's very excited about this next life chapter, and hopes that his infectious ambition will live on in the hearts of his teammates. 
When did you start throwing? 
I started throwing back in 7th grade and I immediately fell in love with the sport. It's always something I've been interested in ever since middle school. 
What motivates you to continue with the sport? What's your hype song before walking into the discus circle? 
What motivates me to continue the sport is simply this: this is a sport where you can either be complacent, or you can give it your all and make it count. I continue throwing because I love the idea of proving the doubters wrong, and I love winning. Back in 8th grade, I had a lot of first place medals.
"The Hills" By The Weeknd is a song that I always listen to before I throw. It gets me hyped up for my throw. 
What's the greatest piece of advice your coach has given you? 
The greatest piece of advice I've ever received from Coach Thorpe is, "Never give up in the face of adversity." That piece of advice has driven me to work constantly on getting better at my craft. 
What are your hopes for this year's season? 
My hopes for this season is to break the Shot Put record that belongs to Daniel Heinig. I also would like to throw 145ft+ in Discus. 
I know I can achieve it, because if you want something bad enough in your life and it's completely in your own hands… who's stopping you other than yourself? 
What's your personal best for discus? Shot Put? 
My person best is 124ft 3in for the discus and for shot it is 38ft 3/4inch 
What is the process of committing like? Where all have you received offers to throw? 
The recruiting process is a very amazing process to go through, and I'm blessed that I'm able to draw interest from some great schools. I currently have 7 offers: Multnomah, Oklahoma Wesleyan, Rochester, Bryant & Stratton College, Kentucky Christian, Tennessee Wesleyan and Mount Saint Mary's. 
Do you have any idea where you think you'll end up committing, if you choose to do so? What are some factors that you are looking for in a program? 
I'm torn between two, and I will be committing April 21st. Some key factors that I look for when looking at each offered program are a great coach, and also great team energy.
What do you want to study as an undergraduate? What do you want to pursue after graduating college?
For my undergraduate, I will be studying Worship Ministry. I want to be able to practice as a Minister once I graduate college and earn my degree. 
What's your biggest piece of advice for younger athletes that are thinking about playing a sport at the collegiate level? 
It is earned, not given. You have to go out and bust your butt every single day if you want to succeed at that (collegiate) level. There are no days off. Track is a sport that YOU can get better at. If you fall short at a workout, that's on YOU. If you want to get better, do more and never stop grinding. It is what you make it, so set your goals and no one is stopping you but yourself. And NEVER give up on yourself no matter what you face.
About the Writer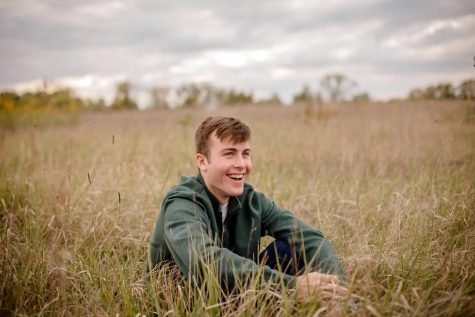 Jack Baird, Editor, Staff Writer
Jack Baird is a Senior at Jonathan Alder, and this is his second year of being apart of the Pioneer Press. His favorite hobbies include reading the news,...