JA Fall Sports Recap
As another fall sports season arrives at JA, the Pioneers are ready to compete after concluding the summer grind and entering the season officially on August 1st. 
The boys soccer team kicked off their season to a great start, currently leading the CBC on the Kenton Trail side. Senior goalkeeper, Dominic Dellapina, hopes to finish off his final season with a winning number of goal saves in the conference, and for the team, a CBC championship and a victorious tournament run. 
The girls cross country team has made impressive strides this season, winning first place at the Ben Logan invitational and at the Buckeye Valley meet, and placing second overall at Westerville North. For sprinter and pole vaulting Senior Jo Zuro, her decision to try out cross country for the first time is one she doesn't regret. 
"Cross country is something I'd never thought I would do," she says, "but it's been cool to jump out of my comfort zone. Everyone is so supportive of each other and it's a great atmosphere to be in."
The great atmosphere is an important part of the boys cross country team's success as well. The boys have taken first place at both meets so far, and Senior Sergey Dutt anticipates more victories in the future.
"The team's goals are to win the conference," he says, "place in the top 4 teams at regionals, and place in the top 12 teams at states." 
The girls soccer team has similar goals of winning the conference, along with a new program goal: guaranteed growth. 
"We want every player to grow in some way," Senior Katie Hooley says, "Whether that's academically, athletically, or personally."
Intentional improvement is a common theme across JA sports, and for Junior Gretchen Roaden of the girls golf team, enjoying the sport is just as important as getting better for her. 
"Our team goal this year is just to keep improving our game and have fun while doing it."
The girls are sitting in second place on our side of the CBC, while the boys golf team takes first place in the conference with an impressive record of 5-0.
The girls tennis team is placed 4th in the league, but Senior Brooklyn Banks hopes for that placement to change by the end of the season.
"My goal is to create lasting bonds with my teammates," she says, "and hopefully place as top 3 in the CBC as a team as well."
Team chemistry is crucial for success, and with the absence of the '21 seniors, the Pioneers have been faced with the task of putting together a brand new football team, which Senior Jon Keith admits has been difficult.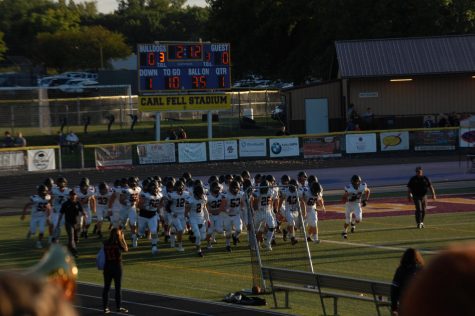 "I'd say the main challenge we've faced this year so far is just piecing together a team where a lot of young guys are needed," he says. "But I know we're going to bounce back and still have high hopes to win the league and maybe even a regional championship." 
The volleyball team is in the same boat, as they have lost a big senior class, but Senior Renci Ricker is excited for the opportunity to step into a new leadership role for her last season. 
"I'm really excited for my senior season." She says, "Our plan is to go as far as we can while having fun– it's also pretty cool that the younger girls look up to us!" 
Visit CBC's website for the JA fall sports schedules, and the JAHS website to purchase athletic event tickets.