Billie Eilish: 'Happier Than Ever' Album Review
Billie Eilish was only 14 years old when she released her debut single "Ocean Eyes," which turned her into an overnight sensation. Since then, Eilish has received 10 GRAMMY Awards, amassed over 90 million followers on Instagram, and with her recent release of her second album titled "Happier Than Ever" breaking the record of the most pre-saved album on Apple Music in the platform's history.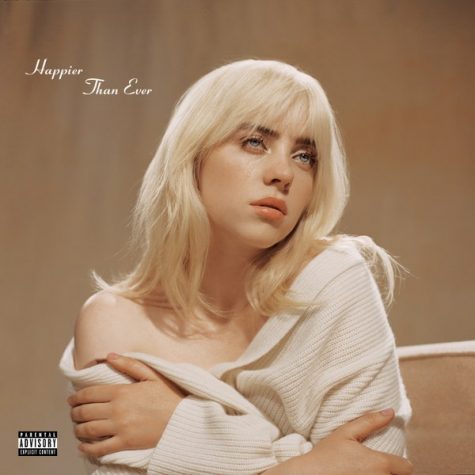 Billie Eilish's "Happier Than Ever" demonstrates a vulnerability the singer has not shown in her past music, with the album including sensitive subjects like her struggles with her body image, sexual abuse, and past relationships. Eilish does not hold back in her lyrics, and she shows a different side to herself not only as a songwriter, but also as a human being.
The title track "Happier Than Ever" tells the story of a past relationship of Eilish's that she was unhappy in. The lyrics state: "You clearly weren't aware that you / made me miserable." She continues to sing that she is happier without him. This song is my personal favorite because it starts out with a slow pace consistent with the rest of the album, but it has a beat drop that leads into the upbeat half of the song complete with heavy drums, electric guitar, and emotional lyrics that every fan can scream.
"Your Power" features a soft guitar that compliments Eilish's soft vocals and melancholic lyrics perfectly. The lyrics touch on subjects all too well-known to women everywhere, with one of its most notable lyric stating: "And you swear you didn't know / You said you thought she was your age." This is in reference to Eilish's own experience, though it is also relatable to many young women that have been preyed on by older men.
Another track that is definitely worth listening to is "Everybody Dies." This song puts a spin on the sorrowful subject of death. The lyrics state: "You might not wanna go / but it's okay to cry." Eilish expresses her feelings about the inevitable loss of her loved ones, but also how she manages to find comfort in these feelings. She repeatedly sings how people feeling the same helplessness about the inescapability of death can find comfort in knowing they are not alone. Eilish sings with such raw emotion overtop a somber melody that really brings the song to life.
The sixth track listed on the album is "GOLDWING," which begins with a serene acapella rendition of the lines from a Gustav Holst hymn performed solely by Eilish. The song then does a seamless transition into a slightly more upbeat performance. The song tells the story of a pure young woman, one who has not experienced any trauma. According to Eilish, the song is a metaphor for "a gold-winged angel." "GOLDWING" is different from the other songs on the album with the church hymn at the start of it, but it provides a nice break-up between songs.
Overall, with its deep lyrics and a vulnerability Billie Eilish has never shown before in her music, her sophomore album "Happier Than Ever" includes songs for every mood and is something every fan of pop and alternative pop can listen to. Although this album's general sound is drastically different from the general sound of her debut album and other older singles, "Happier Than Ever" still had a successful release and has fans singing along to every lyric.