Certified Jams: "Blood Bunny" by Chloe Moriondo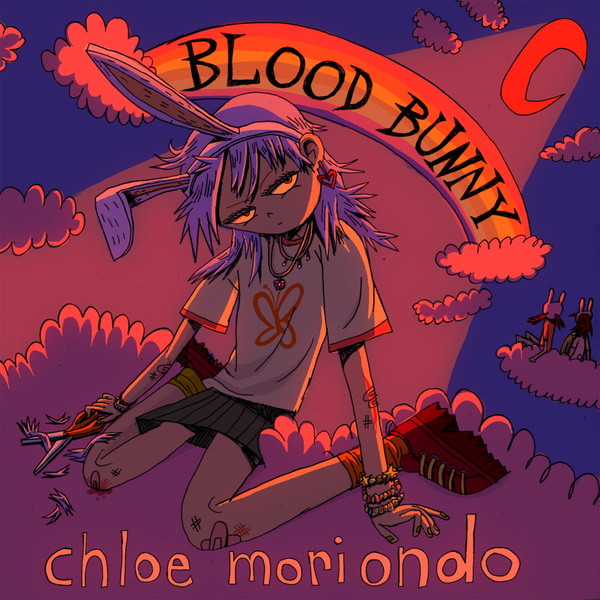 If you enjoyed any of Chloe Moriondo's previous music, be prepared for a shock. Since releasing her EP, "Spirit Orb," Chloe has grown a lot and switched genres from indie pop/bedroom pop to a more pop punk style. She shaved her head, came out as a lesbian, adopted a new wardrobe, and became a pop-punk icon.
Before her metamorphosis, she started on a YouTube channel simply called "chloe moriondo." There she published covers of popular songs such as "Can't help falling in love" by Elvis Presley and "Bellyache" by Billie Eilish. She then released her own music with her first album, "Rabbit Hearted," in 2018 and then followed two years later with "Spirit Orb". Both releases are focused on a soft indie-pop sort of feel, and she gained a lot of traction. After another year of growth, Chloe transformed her career and released "Blood Bunny" in 2021.
When comparing "Blood Bunny" to "Rabbit Hearted", you will find many differences in theme, genre, and lyrical style. For example, in the song "Silly Girl" from her first album, she writes "'I'm just a silly girl in a stupid, dumb, ol' world/And he is perfect/Unlike me". "Silly Girl" also has a slow pace, with the melody just being a ukulele. On the other hand the #5 song from her new album, "I Want To Be With You" features Chloe taking a more aggressive approach to her dating life, with her repeating (loudly) in the chorus "I want to be with you/I want to be with you/I want to be with you/I want to be with you". The comparison of those two songs really encapsulates her change in confidence and style.
Her new album opens with "Rly Don't Care", a song addressing her change in style and confidence from the beginning of her career. She sings "I really, really, really don't care/If you don't like my hair/ Or you don't like my clothes/ Or anyone else does, anyone else does" in the chorus, reflecting on the way her new self is received by her fans and her feelings about it.The song starts with a slower melody similar to her previous songs and then explodes into an alternative anthem. This song works really well in my pre-race playlist.
My personal favorite on the album is "I Eat Boys". As the title suggests, the song tells a story of a cannibalistic girl who—quite literally—eats boys as revenge for misogynistic behavior towards women. She sings, "Hands off kid or you'll wake up in my basement/And all of the feds have to break in/'Cause I eat boys" which goes along with the music video really well in creating vivid imagery. Although the song is slow, it is a very entertaining and exciting listen.
With similar yet opposite themes, "Bodybag," the #2 song on the album, describes the frustration of having a crush on someone that you really don't like, in a very interesting way. The track features the lyrics "Don't know if I hate you or if I wanna date you/Put you in a bodybag instead of my bed" which sums up the whole song pretty well. Although the song is about confusing and conflicting emotions, it really feels like a song you can have a good time with.
While this album is a stark contrast to her previous releases, I am here for it! I highly recommend this album if you enjoy music by Willow Smith, Olivia Rodrigo, or Girl in Red. The mix of bedroom pop and pop punk works really well with Chloe's talented writing and produces an amazing album. "Blood Bunny" gets a 10/10 from me, definitely a certified jam.