Alder Debuts New Hashtag
"So for me, the hashtag means student voices matter, regardless of their experience, regardless of their interests, regardless of their skill, and where they live and who they live with," says Mrs. Korn.
Mrs. Korn was driving her car down 42, heading towards the high school, when she saw a familiar phrase on the electric sign out front. Overcome with emotion, she almost stopped her car. The sign simply said, 'You Matter.'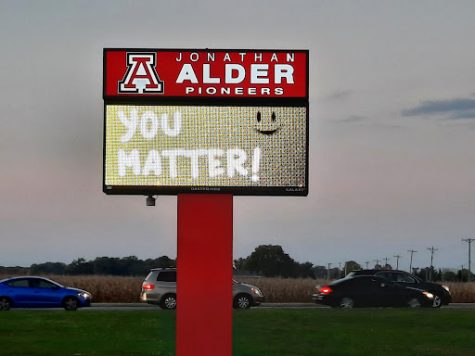 This year at JAHS, the phrase/motto of the school changed from #JAPioneerPride to #YoumatterJA. As the director of student services, Mrs. Korn was tasked with creating this new hashtag.
The exact terminology of the phrase was the only thing that was tinkered with, the phrase truly "was really always about, you matter," says Korn. However, just saying 'You matter' felt a bit too broad.
"[It's just] that hashtag belongs to like millions of other, you know, accounts," Korn says. "And so the idea wasn't so much, you know, exactly what the hashtag said, and what the letters were, it was what it meant, and what it stood for, right?"
Once she settled down on the motto, she pitched the idea to other teachers. The quote had gotten out to technology teacher Mrs. Kerzee, who ran a computer graphics class that designed images for the outdoor sign. The sign was just implemented this year, so Kerzee put her students to work.
"I also wanted the sign to have positive messages to uplift the students as they start their day," Kerzee says, "since it would be the first thing they see as they approach the school."
After participating in a teacher in-service day, the staff had a goal to bring students back together after the previous years' hybrid learning.

"[The phrase was to] help students to know that they matter, that they belong here, and that what they do at school matters to all of us as well as to the community," Kerzee says.
While Kerzee likes the new hashtag, she also liked the old one. The change from #JAPioneerPride to #YouMatterJA not only shifted the actual motto, but a mindset as well.
The previous motto seemed to be geared towards sports and athletics. It was constantly paired with sports news at the high school, and the word 'pride' typically indicates athletics. According to a study by the Pediatric Center in Round Rock, TX, student athletes typically feel as if they belong in the community more than students who are not in any extracurriculars.
Sophomore Trisha Lennex, a marching band and bowling team member, thinks that any participation in school related activities, like extracurricular clubs, make students feel just as important as others. However, she does recognize that the school tends to honor specific sports regularly.
"I feel like there are certain sports that the school celebrates more often that make those kids seem more important," Lennex says.
Many sports, such as bowling, aren't often mentioned in announcements. 
"Things like football, volleyball and soccer are mentioned a lot over the announcements even if they don't win," Lennex states. She follows up with, "but sports like cross country, who win majority of the time, [should] feel as important in our school as others."
Lennex thinks the changed hashtag is an improvement, including more students than the old one. While the new phrase is not as sports centered, it does not negate the importance of the sports program. JAHS still loves their sports programs; but it also loves all the other aspects of the school.
"But there's all these other other experiences that may not look like [sports]," Korn says. "So that was the why not to take sports out of the conversation by any means. But to make it more intentional and to elevate individuals."
The new motto's goal is to unite students regardless of their differences, to put the spotlight on individuals instead of a specific group. After last year, students were fairly disconnected from each other, as they were either in hybrid learning or totally online. Now that the students are back to school in-person, the hope is that the new phrase will link them together.
Korn hopes that every student, all parents and members of the community will understand that they are important.
"…every single student in every single corner of the school district matters, is loved, is cared for, and has the same opportunity to a high quality education and a good experience," Korn says. "And that they get to kind of be the author of that experience." 
Regardless of their non-academic interests, such as football, band, or student leadership, or even none of those, Kerzee hopes that students will be their own author of their student experience.
Kerzee sees the change as a "rebrand in light of [COVID]." Even though everyone is going through this crisis, experiences will be different."…I need you to know that you matter. And your voice matters," Kerzee says.
COVID has made many people feel isolated. With this hashtag, Jonathan Alder hopes that all students will feel important and valued.
"…I think that it's not a hard movement to wrap our heads around, right? Because mattering looks different for everybody," Korn says. "Every individual, you get to decide, you know, in what ways you matter. But we want to celebrate that."