Review: The Love on Tour Experience
The one and only Harry Styles was here in Ohio for his Love on Tour tour, performing in Cleveland on October 18. Love on Tour is Styles' secondary tour for his album "Fine Line" in which he travels all over the United States to perform for his fans. His Cleveland show was at the Rocket Mortgage Fieldhouse alongside his band and opening act Jenny Lewis. As a fan, this particular concert is a part of my top 3 of the concerts I have attended, ranking alongside Taylor Swift's Reputation Stadium tour and Bruno Mars' Unorthodox Jukebox concert.
One of my favorite things about this concert experience was the style present. As soon as I walked in, it was clear that many of Harry Styles' fans have a great sense of style. From wearing clothes similar to the 70s to shiny cowboy hats to feather boas and even fruit costumes, the fans were committed to representing past outfits worn by Harry and to symbolize  his songs. To show this stylish attire a trend started on Tik Tok where fans showed off their colorful style while using the hashtag #hslotoutfit, which stands for Harry Styles Love on Tour outfit. The fans weren't the only ones dressed to impress. We can't forget about Styles, who wore a pink blouse with teal pants similar to his album cover to "Fine Line," and his band wore either tan or teal outfits, all looking very stylish.
The opening act for Styles was Jenny Lewis, who had a very hip style with her look and music. Out of the songs she sang, my favorite was 'Puppy and a Truck,' which she wrote while in quarantine and was inspired by her dog Bobby. Before she sang this song she got a call from Bobby and was "told" by her to do the infamous O-H-I-O and then went on to sing the song. She seems like a sweet human being and I enjoyed her funky style and banter with the audience. Before she left the stage, she was escorted out by a dog–not a real one but someone in a dog suit. It was a good laugh and an amazing way to end her performance.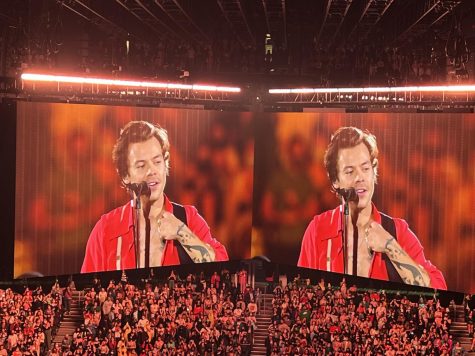 The lights dimmed once again but this time for Styles. Slowly he began. Now, everyone in the audience was anxious to see this man come to the stage, but we had to keep our patience. Once his band was all on stage, we heard him start talking. Popping on the screen were bunnies that were also on his merch. And then, bang! He was on the stage. Everyone screamed out of pure joy to see him and straight away he began singing 'Golden'. 
Each song he performed was spectacular. However, the one that shines out the most to me was 'Fine Line'. Before he began with the song, he took the moment to speak to the crowd and told everyone to "take a moment during this song to remember a time we couldn't be in this room together. Please go home to tell the people you love them and to people who you don't love to just love, love, love, love everyone around you." The emotion taken into this song flooded through the audience, each and everyone with their flashlights on to all celebrate the moment to be around each other to enjoy such a wonderful opportunity. 
Similar to before "Fine Line," the highlights of the concert are when Styles talks to the audience. One of the first moments the audience saw his humor was when he told the audience that at some points during the concert, we would see his face and other times his rump, which caused an outburst from the fans in attendance. Later in the show,  he led the crowd to sing to a fan for their birthday. However, Styles got interrupted by the "risque" posters causing him to "blush"(Styles.) 
"Cherry," which was performed acoustically, was a very mellow calming addition to the concert, compared to "Sunflower Vol. 6" or "Kiwi," which he sang alongside Elin Sandberg and Ny Oh who added a more angelic feel with their vocals. For a throwback, Styles went back to his One Direction years and sang "What Makes You Beautiful." During this song, he told everyone to "sing and to dance with him," causing the whole crowd to jump up, plus we got Pauli Lovejoy, who plays percussion, to join in. The full set list of Styles' performance at Cleveland can be found on spotify.   
Overall this concert was a great experience and I'm grateful that I got to enjoy an hour and half with Styles and his fans. I thoroughly enjoyed both Lewis and Styles' performances and am glad that I got to witness Styles' funkyness in person.