Do You Know Our Staff? The Majestic Mathematician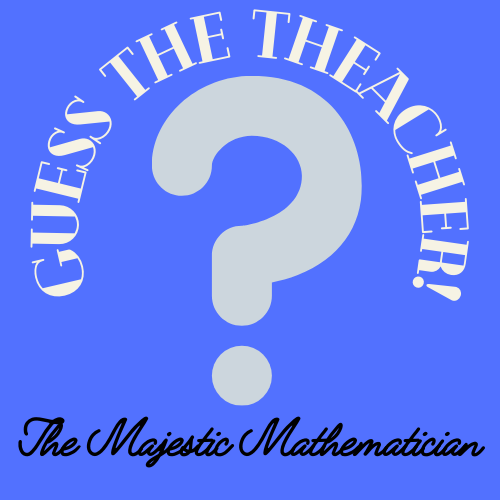 Welcome to this month's edition of Jonathon Alder's "Do you know our Staff?" article. If you choose to participate, and you guess the teacher correctly, your name will be posted on the next issue of "Do You Know Our Staff?". Now, let us progress to the clues!
This teacher lived in Upper Arlington for 22 years, before moving to Dublin, where they live now. While in high school, their least favorite subject was anything they had to write a paper in, but their favorite subject was Math. Hence, this teacher shall be dubbed the "Majestic Mathematician.".
The one thing that the Majestic Mathematician detests is their students not even trying to complete their homework. "I would like them to try," they said, "even if they get them all wrong. They need to try, otherwise I won't see what I can help them with." When asked what they believed their weirdest teacher experience was, they laughed. "I've had a lot of weird experiences, but the weirdest has to be when there was a spider above me and none of my students told me!"
They also have classes with a mix of humor and honesty. "I've had students tell me they fell asleep and forgot to do their homework," they said. "One of the funniest answers I've been given is when my students are tasked with finding x. Some students have circled it and said they found it, before solving and figuring out the correct answer." 
The Majestic Mathematician was a part of many clubs in high school. They participated in marching band and show choir, and also played volleyball, basketball, and softball.
As a child, they loved watching Saturday morning cartoons, especially "Bugs Bunny ". They also enjoyed the classic kids TV show, "Blue's Clues' '. This teacher also liked watching John Trevolta's movies and spent hours pouring over Dr. Seuss books. When not reading or watching cartoons, this teacher would go to movies with their friends, go ice skating, roller skating, and loved McDonald's Big Macs.
During school and college, this teacher found studying hard for them, especially because they didn't like to. "Thankfully, I gathered the strength to study and pass my classes," they said. "It paid off, even though it was difficult." This teacher loves homemade ice cream, topped with maple syrup, and finally, they have a ton of Sharpies, because it's their favorite brand of marker.
If you have any ideas for who this week's teacher is, submit your answers to the Mystery Teacher Form by December 15th, 2021. Thank you so much and we hope you have a great week, and until next time readers!