Jonathan Alder Welcomes Think Big Space from AWS
Amazon Web Services and Communities donates S.T.E.M Lab for the Alder district and community
Walking throughout the halls of Jonathan Alder High School, one room stands out from the rest of the classrooms. Having a berry colored outside wall and the words "Think Big Space" in bright white lettering contrasting against it, this new room is brightly colored and a very inviting space for creativity and possibilities. Better known as the STEM Lab, this room was donated to the school district and community by Amazon Web Services and Communities (AWS). 
The Think Big Space was designed by AWS to place students outside of a classroom environment and get them more interested in science, technology, engineering, arts and mathematics. Along with that, it gives students the chance to become more free in the classroom and gives them a better hands-on overview of how to solve real word problems.
Dr. Misty Swanger, assistant superintendent of Jonathan Alder Local School District, worked with AWS over the past year putting together proposals and different information to help get this large donation. "The summer of 2020, I received an email from AWS and Communities, to take a Zoom call about the creation of the Think Big Space in the community," says Swanger. "In the Zoom call they explained what they were looking for, what it would be and [asked] whether or not we'd be interested." 
This project has been Swanger's main goal since receiving the initial Zoom call from AWS and Communities. "Early December of 2020 I had to have a proposal done of how we could utilize the space and what we might do with it," says Swanger. When speaking with members of AWS and Communities, they suggested going the route of having a space that could be utilized not only for the school district but also the community.  
A few challenges came with this proposal, according to Swanger, primarily "how could we build a S.T.E.M innovation area that would work with elementary students all the way up to highschool and [that] adults would be interested in." 
Swanger found that  it was best to reach out to other schools and S.T.E.M spaces trying to decide what fit best for the Alder community. "We got to propose all the equipment and everything we [have] in there, …then all the information and cost to a person from AWS and Communities," says Swanger.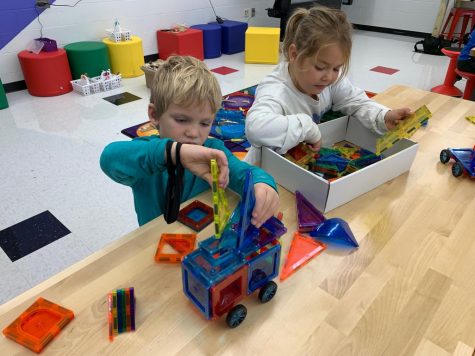 Swanger worked with Mrs. Schrock, the director of instructional technology for Jonathan Alder school district, and Ms. Byers, the new stem facilitator for the district, on the project to make plans for the space and determine what equipment the Think Big Space would need.  
The room includes: a direct to garment printer, printing graphics on garments using modified inkjet technology, a 3-D printer that prints 3 dimensional objects from a digital file, a CNC router that is a computer controlled cutting machine typically used to cut materials such as wood, steel, plastics, glass and foams, an AV rover that can be used to broadcast from any place in the school, a laser engraver, a circuit that can cut things from vinyl, a vinyl printer cutter that can create larger poster projects, and VR computers/laptops. 
These are just the big equipment in the lab, along with coding materials such as beginners blocks used for elementary students, iPads to help bring the coding to a more advanced level, and little remote control mice to help bring the code to life. One thing that Swanger focused on was the aspect of building STEM from elementary school all the way up to high school and to make it fun and interesting for kids of all ages.
Ms. Byers has been teaching in the district for two years; her first year she taught at Plain City Elementary, and last year she taught Jonathan Alder Digital Academy (JADA). She is now the teacher in the Think Big Space, where kids K-8 travel to the high school to have access to the resources. Byers is trying to integrate the different lessons the students have been learning in their classrooms and bringing it into a more hands-on environment. 
While the space has been open since the beginning of the recent school year, it was still a work in progress trying to get students into the room and making it more available to the community. 
The elementary school kids, however, have been able to use the resources since the start of the recent school year; Byers has been taking portable things to the elementary schools and teaching kids there. "[I have found] it's been super helpful for students because it's a different way of thinking… this gives them the opportunity to apply what they are learning or see it in a different way," says Byers. 
The first set of students came in on November 17, 2021; the goal is for students not in the high school to have two different opportunities to come into the lab and learn in it. 
Developing a space for kids to express their creativity and ingenuity was a big takeaway for this donation from AWS. "I really want to expand kids' thinking, how do you problem solve, how do you work together, how do you be creative and how can that help you with the regular learning [in class rooms]," says Byers. 
Possibilities are endless when it comes to the "Think Big Space" with all the different tools and technology that is now available not only to the students but the community as well. "The space is for everyone… the highschool is more of a common space for the community," says Swanger. "Since there are almost always evening activities, it's more of a community hub than say the elementary school.