JAHS "You Can't Take It With You" Set to Perform
As we return from break, many after school activities are beginning to pick back up again. Athletic events and practices are resuming, club meetings are scheduled, but one group in particular has been working nonstop since September, and are almost ready to unveil their hard work to the public. This is, of course, the Jonathan Alder High School Drama Department and their Fall Play, "You Can't Take it With You." The cast list was posted on October 1st, listing senior Nadia Haines and sophomore Matthew Hersberg as the female and male leads respectively.
The cast is composed of all ages of high school students, from freshman to seniors. There is also a varying degree of experience, which makes for a dynamic and diverse group of students. 
"I just wanted to try something new, because this is like my last year to do it. So I decided anything I want to do, I'm going to try it," first year cast member and senior Olivea Hallman says.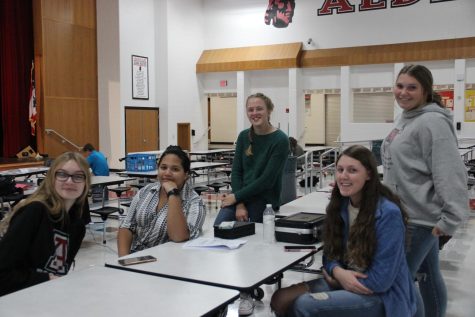 While this environment is different but good for many of the new cast and crew, many of the returning members continue to appreciate the unique space the play provides them. 
"I really like getting to know everyone. It's such a fun, different atmosphere and I get to form these connections with people I wouldn't get to know otherwise," Haines says. This is her fourth year in the high school play, but has been involved in school plays since 3rd grade.
While the cast is important to the production, it is also important to acknowledge all of the behind the scenes work the crew does. Junior Nick Mast, one of these crew members, is in charge of the lighting in the show. 
"[I joined the play because] my friends were doing it, and we realized that someone needed to take over lights because of all the graduating seniors," Mast says. "Plus, I really like sitting in the booth and just watching all the chaos of the show going on below me."
The teacher advisor for the play is Stephanie Tinberg, and this year's student director is junior Addison Johnson. Both have been involved in the play since almost the beginning of the school year, and are extremely proud of all the work the cast and crew have put into this show. 
"It's going to be amazing. I mean, these actors have worked so hard and our crew is amazing, our set is amazing, everything is going to be absolutely incredible," says Johnson.
"[My favorite part is] probably watching the students learn who their characters are and really making their parts their own, and watching the crew delegate their roles and do all the behind-the-scenes stuff. It's so satisfying when I can finally take a step back and they really do everything on their own," Tinberg says.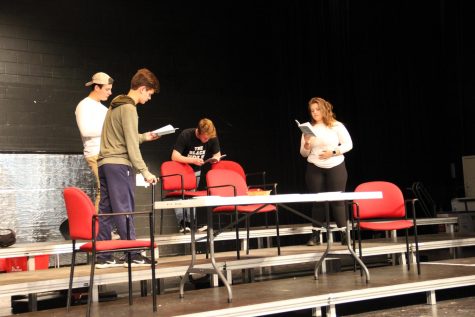 The plot of this classic is slightly less well known. According to IMDB, the storyline is "The son of a snobbish Wall Street banker becomes engaged to a woman from a good-natured b
ut decidedly eccentric family, not realizing that his father is trying to force her family from their home for a real estate development."
In more casual terms, Haines and Hallman explain the plot as, "It's the 1930s and this guy from a rich family gets engaged to this girl from this real crazy family and she's planning an engagement party at her house and she tells them all to act normal, but everyone shows up a day early. So the show is about how nothing's ready and how they come together at this dinner." 
The show will take place Friday January 14th, Saturday January 15th, and Sunday January 16th. The times are 7:30pm on Friday and Saturday, and 2:00pm Sunday. Tickets are available online and at the door.