Omicron Variant: What You Need To Know
The first case of omicron discovered in the United States was in the state of California on Dec. 1, and since then has been detected in all 50 states. Now omicron is the dominant strain of COVID-19 in the US, and scientists around the world are working to understand it better. Here is what is known so far.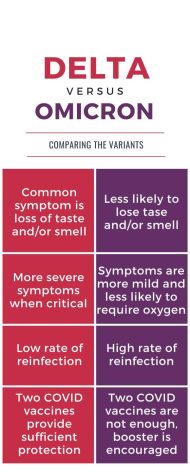 New research shows that the symptoms of all of the variants are similar, which include cough, fever, and fatigue. Although severity of symptoms vary, epidemiologist Lorena Garcia said, "In those that are fully vaccinated and boosted, symptoms tend to be mild." However, Garcia went on to state that symptoms can be more severe in individuals who aren't vaccinated, such as hospitalization or even death.  Although the symptoms of the variants are similar, the omicron is more transmissible than the latter due to more mutations. In addition, there is an increased risk of reinfection in those with the omicron variant, according to early studies in South Africa.
With this information in mind, many are wondering whether vaccines protect against the new variant. Preliminary studies show that individuals that are fully vaccinated and have received their booster shots are largely protected against omicron. Albert Bourla, Chief Executive Officer of Pfizer said, "Although two doses of the vaccine may still offer protection against severe disease caused by the Omicron strain, it's clear from these preliminary data that protection is improved with a third dose of our vaccine." In addition, the chief of the World Health Organization (WHO) Tedros Adhanom Ghebreyesus said that variants are currently winning against vaccines because of "inequitable vaccine production and distribution."
Scientists have learned a lot of new information about the omicron variant, but studies are still early and research will continue to be conducted. Dr. Mike Ryan with WHO warns that the most vulnerable are those older and with underlying conditions, especially those who live in communities with low vaccination rates. According to WHO, the most effective steps citizens can take to reduce the spread of COVID-19 is "to keep a physical distance of at least 1 metre from others; wear a well-fitting mask; open windows to improve ventilation; avoid poorly ventilated or crowded spaces; keep hands clean; cough or sneeze into a bent elbow or tissue; and get vaccinated when it's their turn."