Attending Concerts During The Pandemic: What To Expect
During the peak of the pandemic, it was difficult for artists to have concerts while keeping their fans safe. However, as the world began to reopen in 2021 and 2022, tours resumed with new precautions being taken. Although some may still have concerns despite the precautions about attending, live music is still worth it to many around the world, including me. I was lucky enough to have been able to see Twenty One Pilots at the Nationwide Arena, Billie Eilish at the PPG Paints Arena, and Dua Lipa at the Schottenstein Center since the pandemic began. Some of these policies are new amidst the pandemic and some are not. Here is what to expect when attending a concert in 2022.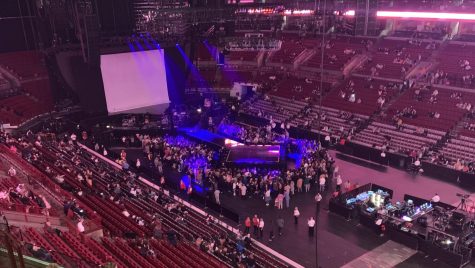 All three of the concerts I went to had a health check. These health checks require attendees to have proof of vaccination, or a negative COVID test. The venues will have employees at the entrance near the metal detectors checking tickets and any COVID requirements, to ensure that these concerts are as safe as possible. Prior to attending any concerts, you should know the policies beforehand to avoid any issues at the gate. These vary from arena to arena and artist to artist. Health checks, masks, and bag policies are all restrictions that I have run into at various concerts. A rejection at the gate or a run back to your car can all be avoided by checking policies before arriving at the event. These can be found on the arena's website, and often times on your online ticket as well.
After going through the metal detectors and a health check if required, large arenas will often have multiple floors and merchandise stands. I have found that these are the same as they were before the pandemic. Merchandise stands are booths that are selling the artist's tour merchandise, such as shirts and hats. These will be located throughout the arena, and the amount of them will vary. The lines for these stands are often long, so prepare to get to the arena early if you want enough time to buy merchandise before the show starts. I've found that the items sold here are usually more expensive than the artist's usual merchandise they sell on their website, as it is usually limited to selling on tour only.
Once you are ready to be seated, check your ticket for your section and seat number. General admission will always be on the bottom floor, and the higher sections are labeled. Follow the signs, and ask for help finding your seat if needed.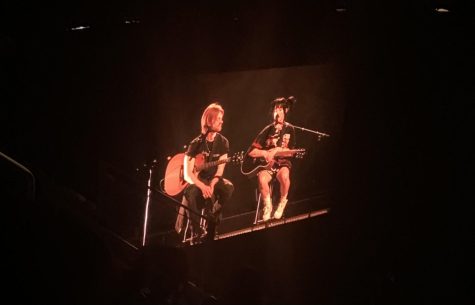 Due to the pandemic, some attendees were hesitant to go to the Dua Lipa concert. A local fan named Lizzie says, "I really haven't been to a concert in a while, because I was nervous, but I really didn't want to miss this one."
Although the pandemic has altered processes inside concerts, they are no less fun. I've found that masks and health checks do not hinder the enjoyment I get from attending concerts! The precautions taken made me feel safe and I am glad that I'm still able to experience live music despite the pandemic.
Another long-term Dua Lipa fan who attended the concert says, "I feel safe enough here, and it doesn't ruin the experience at all."