JA Show Choir Friends and Family Night Opens Competition Season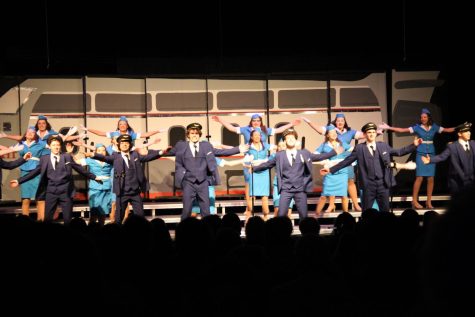 On Thursday, February 10th, Jonathan Alder's "High Society" Show Choir performed their first public performance for the friends and family of choir members, backstage crew, and band. 
This year's "Now Boarding" show is set to represent travel and transportation, featuring songs including "Come Fly With Me" by Frank Sinatra and "This Must Be The Place" by The Talking Heads, as well as dances and costumes that emphasize quintessential travel aesthetics and various cultural components. 
The choir's girls sections even perform a song in French- "La Vie en Rose," by Lacy Dacus- to immerse the audience in the London to Paris trip of which the whole show surrounds.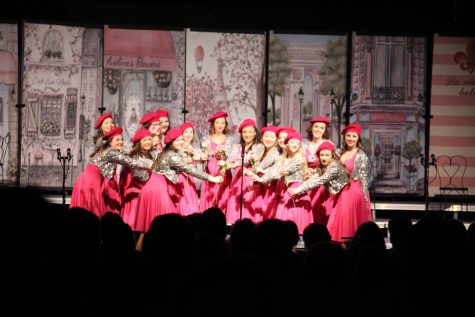 French culture is represented through the costuming and props, as the performers wear berets and use wrought iron
chairs throughout the number. The girls also wear blue vintage flight attendant costumes for the song "Jet Set" from the musical "Catch Me If You Can" to convey more elements of travel.
The show's soloists include Evan Stage and Nadia Haines performing Sinatra's "Come Fly With Me."  Annelise Couette, Sophie Shaefer, Rhis Mason, Olivea Hallman, Ellyse Tillyer, Isaiah Heyman, and Matt Hershberg perform "Jet Set" from the musical Catch Me If You Can, followed by Olivea Hallman singing "This Must Be The Place" by the Talking Heads.
The choir as a whole also performs "Welcome to the Working Week" by Elvis Costello, "Last Train to London" by Electric Light Orchestra, and "Leaving on a Jet Plane" by John Denver.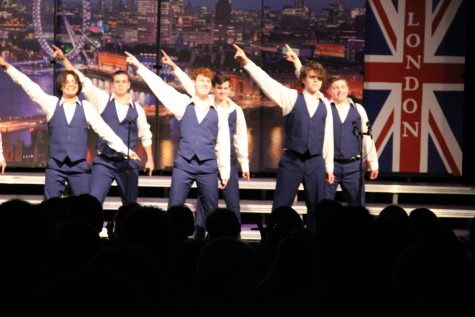 After rallying support from friends and family during the showcase, the Choir took their show on the road to kick off their competition season.
At their first competition on February 26th in Alliance, OH, "Now Boarding" placed 6th. Anderson Wilson won "Best Performer" of the choir and JA won "Best Costumes" of the whole competition.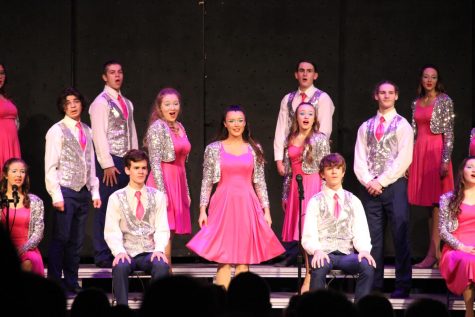 At the most recent competition on March 5th in Teays Valley, OH, the Choir placed 2nd and again won "Best Costumes," as well as "Best Female Soloist" for Hallman's performance. Evan Stage also won "Best Performer" in the choir.
This was the last performance for graduating seniors Annelise Couette, Elizabeth Chin, Nadia Haines, Olivea Hallman, Isaiah Heyman, Ellyse Tiller, Cami Tonti, Ashley Warren, and band members Mason McFarlane, Kyle Russell, and Roman van Rookhuizen.
Seniors Couette, Haines, Hallman, Tiller, and Tonti will also be performing in the Music Department's next venture: the Spring musical "Shrek," set to run from April 28th-May 1st.