Q & A with Alyssa Miller
Alyssa Miller is a sophomore at Jonathan Alder. She is involved in a number of extracurricular activities at school. During winter she plays basketball, but during the spring she plays softball. The Jonathan Alder softball team has accomplished many things in the past years, including the State Championship title for Division II in 2019. She talks about what it's like to play softball for Alder and what she is most excited for in the 2022 season.
Q: What position do you play in softball?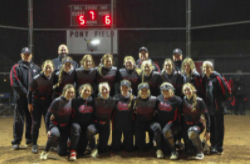 A: I play pitcher and outfield.
Q: What made you want to become a pitcher?
A: I grew up just pitching in the backyard and then we took lessons and then I became a pitcher. So I just kinda grew up with it.  
Q: How long have you been playing softball for? 
A: I started with T-Ball. So like 10 years. 
Q: Why do you play softball at the high school?
A: I love the sport. And the team means a lot to me. 
Q: What are you most looking forward to this season?
A: Making memories with the seniors before they leave. And hopefully going as far as we can in the tournament, and growing as a team. 
Q: I know that your team is taking a trip to Florida, do you think the trip you take is a way to help the team come together? 
A: Yes, it's kinda supposed to bring us closer together, especially the freshman, just upperclassmen with lower classmen. Just bring us together. 
Q: How do you think your team will do this year?
A: Hopefully good, we made it to districts last year. But I don't think we were as prepared as we are now. 
Q: What is the team's environment like? 
A: Really, empowering to each other. A lot of positive energy all around, just like cheering each other on. And good sportsmanship, like telling each other what we need to work on. Overall, I'm excited for this season and to make memories and get as far as we can as a team.