Milestones within Alder Athletes
One of the biggest accomplishments when it comes to playing a sport, is reaching milestones within it, such as 1,000 points or 100 wins. Here at Jonathan Alder we've had four student athletes reach milestones within their own sports, with three different programs being represented.
In the fall, the volleyball team had an eventful season, earning [something about where volleyball ended the season here]. During this successful season, senior Lizzie Lombardi reached 1,000 assists for her career, a feat only few volleyball players at Alder have accomplished before. Lombardi also received Central Buckeye Conference (CBC) player of the year for volleyball and led the CBC in number of aces.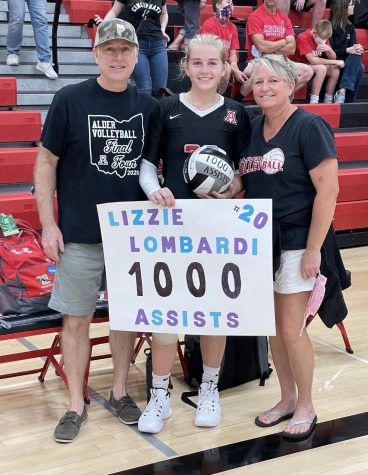 Lombardi has played on the volleyball team since her freshman year, playing varsity since her sophomore year. Playing on club teams and training in the offseason to improve her game, Lombardi says, "I think the physical aspect of conditioning helped me become more mentally confident when playing the sport." 
Lombardi has received a lot of support from friends and family. "My parents have always just pushed me to be the best I could, my friends have always supported me," she says. "They have always played next to me because my bestfriends are the people that I play with." 
Having friends to be there and support you through sports can be challenging but also rewarding. Juniors Xaiver Pierce and Oliver Byerly are familiar with this dynamic, as they have been on the wrestling team since their freshman year and reached the 100th win milestone together at the district wrestling meet. 
Since both wrestlers are juniors, they still have a whole other season to show off their skill and determination but are proud of what they've accomplished so far. "It felt great to get my 100th win, [it's] a goal I've been working towards for my high school career," says Byerly. Pierce made 2nd team CBC for 120 pounds and Byerly made 1st team CBC for 150 pounds.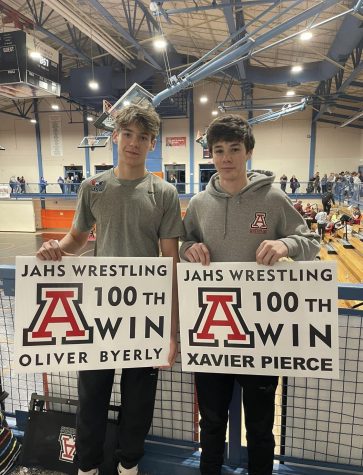 Byerly went on to win districts and later place 3rd at the state wrestling meet.
Wrestling wasn't the only winter sport that received a lot of action. The girls basketball program finished their season with winning the conference title and making it to districts, with senior Mary Ferrito reaching the 1,000 points milestone. There have been very few Jonathan Alder athletes that meet this milestone, with a total of 
Ferrito has been playing varsity on the team since her freshman year and  she was also named CBC player of the year for girls basketball and was the leading scorer for the CBC. Along with being named Columbus Dispatches player of the week, named first-team all-district and special mention all-state honoree.
All of these athletes' hard work has been met with many accomplishments and rewards. "The greatest reward that I could've received hitting that 1,000 point it really helped enforce all the hard work I've put into basketball," says Ferrito.