Album Review: You and Your Friends by Peach Pit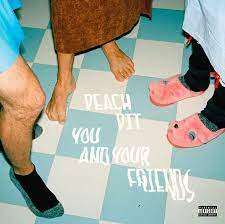 Peach Pit is a four-member band from Vancouver with 3 released albums. The band was formed by the lead guitarist, Chris Vanderkooy, and the lead singer, Neil Smith, in 2014, and they released their debut EP in 2016. Their second album though, released in 2020, is their best one yet. 
"You and Your Friends" has a special place in my heart. It was my personal introduction to this wonderful band and I think it should be everyone's first exposure to Peach Pit because it features some of their best work. It opens with "Feeling Low (F*ckboy blues)," a song about exactly what it sounds like. The whole album has a theme of relationships/breakups and the accompanying emotions with it, so this song provides a good tone setter for the album.
Right after that is the song "Black Licorice," which is about feeling as unwanted as the hated candy it is named after. The guitar in this song is full of bends which gives it a lovely contrast to the vocals and creates a reflective mood that matches the lyrics. This song is really fun to blast in the car while driving on the highway.
If you want a more calm mood, try the song "Second Life with Emily." The official meaning of this song is widely unknown due to the obscurity of the lyrics, but that also gives it a complex tone. This track has a very breezy and relaxed feel to hit, making it perfect to have on in the background.
If I had to choose, though, the very best two songs from the album are "Your Teeth" and "Thursday." To me, "Your Teeth" is a reflection on a past relationship and the little things that lead to the eventual break up, but officially, it's about an argument the lead singer had with his ex, which he stated here. However you choose to interpret it, this song is beautiful. The guitar is soft and the drums are calm, but the song is still at a moderately faster-pace. "Your Teeth" has a really satisfying melancholy sound to it, so it's really good to listen to when you're sad. 
The other song, "Thursday," is about the angry emotions that occur after a break up. This song has a great build up followed by a climax that makes you want to run in the rain. The contrast between the more calm sounding verses ("Coming up in the radio silence/ Happened to hear /How you've done nothing this year/ But the same old boyfriend") and the aggressive chorus' sound ("Keep it up, as if I would ever have a place for you/ Kickin' round in my room/ Hold my hand, as if I would ever let you be my man/ Catch on up if you can/ Leave you beaming with every second, just a walk away") is very satisfying. It's a really emotional song that's good for being emotional. 
"You and Your Friends" is best listened to in order, so that you can get the full feel of it. Honestly, this album is memorable in every way, and I couldn't recommend it more.