Ohio and Pennsylvania Senate races may be the most important in the midterm elections
"I think there's probably a greater likelihood the House flips than the Senate. Senate races are just different — they're statewide, candidate quality has a lot to do with the outcome," Senate Minority Leader Mitch McConnell (R-Ky.) said last Thursday, August 18th, at a Northern Kentucky Chamber of Commerce luncheon.
McConnell's comments have drawn criticism from a number of GOP figures, including Fox News host Sean Hannity and former president Donald Trump. However, recent polling shows several Republican candidates in battleground states struggling to maintain their leads, or losing by significant margins.
Two states in particular have stuck out: Ohio and Pennsylvania. Both are rust belt battleground states with very similar demographics, and two increasingly important senate races. 
Ohio
Senator Rob Portman (R-Oh.) is retiring after his second term, leaving a vacant senate seat. A crowded Republican primary in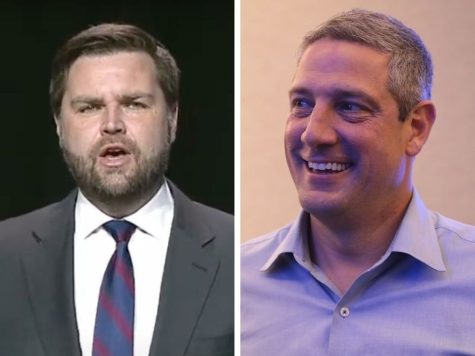 May led to J.D. Vance, the Trump-backed "Hillbilly Elegy" author winning the nomination.
Any republican candidate in Ohio, a swing state that has been trending to the right in recent years, should have a relatively smooth campaign. However, Vance has been struggling to maintain a lead over democratic nominee Rep. Tim Ryan.
Ryan, a congressman representing Ohio's 13th Congressional district, has in recent polls led Vance by as much as 11 points, according to FiveThirtyEight, a poll research organization. This type of competitiveness in a state Trump won in both 2016 and 2020 is a bit of a head-scratcher.
Ryan has marketed himself as a "post-partisan populist," as well as a moderate candidate despite a liberal voting record. A large part of his campaign has been putting Vance on blast for some of his far-right positions, like getting rid of Social Security and his support of former president Donald Trump's attempt to overturn the 2020 election results.
There is a chance Vance's lead could widen in coming days, as a PAC aligned with McConnell has reportedly bought $28 million worth of air-time to support Vance. Prior to this spending, Vance had been relatively AWOL in terms of television ads. 
Polls from 2020 showed Biden trailing Trump by just one point, but Trump won Ohio by eight points instead. Polling errors in the midwest have plagued democrats before, and this election could be a repeat election season.
No matter what, it is notable that a Democrat is performing this well in an increasingly red state. If Ryan does win the election in November, he could provide a campaign blueprint for Democrats in other red states. 
Plus, if J.D. Vance would perform poorly, McConnell's warnings of "candidate quality" could be tied with Trump's endorsement. A failure by Republicans to win the Ohio senate seat with a MAGA certified candidate would likely jeopardize the former president's political future.
Pennsylvania
What once seemed like an easy GOP win now has celebrity doctor and Republican nominee Mehmet Oz fighting for his life. The race is meant to fill the seat left empty by retiring senator Pat Toomey, a Republican. This should, in theory, give the GOP an advantage, but this has not been a factor thus far.
Humor has been a major part of Democratic nominee John Fetterman's campaign, as he consistently mocks Oz's lack of
knowledge on Pennsylvania culture. A video of the former mayor and Lt. Governor raised half a million dollars with a simple video posted to twitter mocking Oz's use of the word crudité. 
Recent polls have given Fetterman either a slim lead or a wide lead, but he has never trailed Oz. A recent poll from the center-right Trafalgar Group found Fetterman had a nearly five point lead over Oz, while a Public Opinion Strategies poll found Fetterman had an 18 point lead over Oz.
All of these polls beg the question: what is going wrong for Republicans in Pennsylvania, a swing state in an election cycle that should be favorable for the GOP?
It likely has to do with the candidate quality McConnell mentioned last Thursday. Oz has been repeatedly attacked by Fetterman for moving to Pennsylvania only a year ago. A Pennsylvanian Republican candidate would never have faced a line of attack quite like this, but Oz secured Trump's endorsement over a number of other candidates in the GOP Senate primary, helping him pull ahead. If Oz loses the general election, that would look pretty bad on Trump.
The underperformance of Oz could also be because of Fetterman's populist appeal. His widely recognized and relaxed outfits, several tattoos, and his large stature provide a working class appearance that resonates with a lot of the blue-collar voters in Pennsylvania. His political history also shows his appeal to working class progressivism, which has given him a leg-up in a rust belt state.
Most likely, however, a mix of both explains the GOP's poor performance thus far. Oz has a number of flaws that have been exploited in the race thus far, and Fetterman's scrappiness and campaign approach have given him several advantages.
In both Ohio and Pennsylvania, Republican Senate candidates are fighting hard to stay afloat in races that should be relatively easy for them to win. Both Vance and Oz, political newcomers, are facing well-established democratic candidates that are fighting hard for a victory. 
This is a pattern we are seeing across the nation, as Trump-backed candidates like Vance and Oz with little-to-no political experience are struggling to gain and hold leads over experienced democratic candidates. In previous races, like Virginia's governor race last year, anti-establishment populism was a winning strategy for the GOP, and safe choice candidates from the Democratic party appeared to be very weak. Now, only a few months before the midterm elections, this narrative has been turned upside down.
McConnell's statements about the Senate and "candidate quality" will stay in the minds of many Republican strategists leading up to November. If MAGA candidates like Vance and Oz continue to struggle and eventually lose in November, there may be a reassessment of Trump's role in the republican party, paving the way for a crowded 2024 Republican Presidential primary.