Discussion of teacher contract negotiations dominates October 10th school board meeting
While multiple different projects were talked about during the October 10th School Board meeting, including new district technology initiatives and new building projects, the ongoing contract negotiations took center stage. 
One of the agenda items for the meeting under "New Business" was "JA Board of Education and the JAEA Agreement July 1, 2022 – June 30, 2025." For this item, the board was voting to enforce the contract JAEA had voted down in August. 
This agenda item was the cause for a significant spike in public participation, as dozens of teachers were present in their JAEA shirts, and 12 public participants spoke in support of the teachers. 
JAEA President and Plain City Elementary School music teacher Cheryl Manbeck gave an official education association statement at the meeting, expressing her disappointment with board leadership.
"You gave up on us, the teachers, counselors and therapists who take care of our JA kids, so you have essentially given up on our kids," Manbeck says. "Teachers never give up on their students. We reteach, research, reteach, brainstorm, and reteach until we find a way for our students to get it. You gave up without even returning to the table to try to find common ground with the association."
Prior to the meeting, a group named "Parents for JA Teachers" formed on Facebook. The group was formed with the goal of supporting Jonathan Alder teachers throughout the ongoing contract negotiations.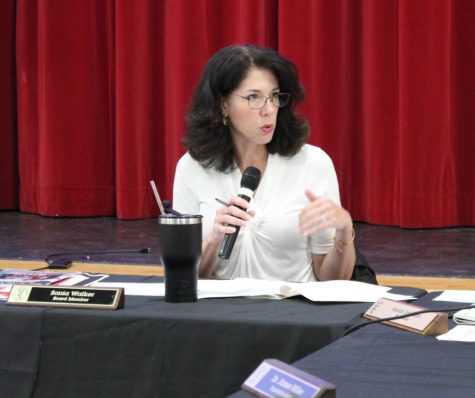 Many of these parents spoke at the meeting following Manbeck. "If you value our students, you have to first value our teachers," Lindsay Streit, a JA parent, said during the meeting. Others reminded school board members that they were elected to be their voice and urged them to continue negotiating. 
While the board had planned to vote to impose their Last Best Offer, the board instead voted to go to executive session before that item on the agenda. 
When they returned, board member Steve Votaw explained that the Last Best Offer was "a carefully balanced decision based around teacher salary increases, future operation costs of the district, and being responsible stewards of the Community and Taxpayer Dollars." However, Votaw says that the board would "continue to listen" before moving to delete this action from the agenda from the October 10th meeting.  He echoed similar sentiments when asked for an official statement about how the meeting went.
Afterwards, Brette Swider, one of the parents that started the "Parents for JA Teachers" Facebook group, commented on the proceedings. "I strongly feel that teachers are the basis of the district. They are the foundational building blocks of the district," Swider says. "What they are asking for in their negotiations is not unreasonable. They are asking for a competitive contract that would retain them as teachers here."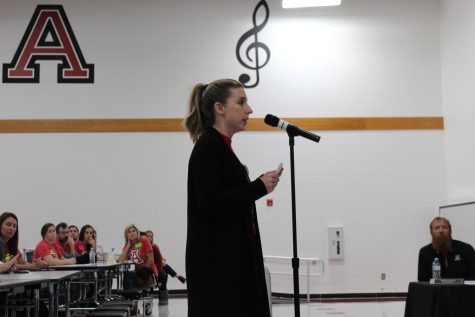 Swider also commented on the increased community participation at the monthly board meetings. "I think that having the community here to support [the teachers] was very helpful," Swider continues. "And for [the board] to just hear it from the community was helpful. I think that the board made a good decision to not impose the [Last Best Offer]."
In the board's official statement, Votaw wanted to emphasize that the school board listened to the teachers in their decision to not impose the Last Best Offer. Votaw writes, "Our school board does listen to our teachers and we value them.  This is the reason that we removed [voting on the contract] from our agenda with intentions to meet with the committee back at the negotiating table. It is our hope that we can agree to terms quickly and move forward with the year."
Manbeck also has hope for the future negotiations. "JA has great kids, great families, and great teachers," she says, "and we want to be able to retain those great teachers."