How extracurriculars affect students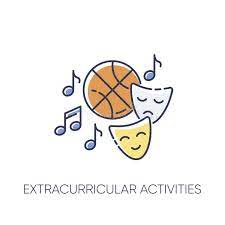 All across the U.S., high schools offer students a mass amount of extracurricular activities. The activities range from clubs, sports and anything academic based. These extracurricular activities have impacted most students' daily lives and teach them valuable life skills.
      The National Center for Education Statistics says these activities offer opportunities for students to learn the values of teamwork, individual and group responsibility, physical strength and endurance, competition, diversity, and a sense of culture and community. 
     From an academic aspect, students who have participated in extracurriculars have been shown to experience higher levels of academic achievement. The clubs, sports and academic activities have helped students have a more positive educational experience in general. NCES says it has been shown that 10% of students increase their chances of attending college than other students who do not participate in extracurriculars. 
     Normally, the type of club that you are involved in will show results in some academic capacity. For example, students who attend athletic clubs are more likely to excel in math, science and English. 
     By doing both extracurricular activities and staying on track with school work, students learn to balance different aspects of their life. JAHS student Madeleine Freyhof says, "Doing clubs and sports has helped me with time management and getting my work done." 
     According to the NCES, extracurricular activities also have an impact on students' character and social development. Each club or activity could help any student in a different way. Some could make new friends and build new team work skills. In addition, students could feel a sense of belonging. The NCES says this provides students with relationships and positive networks. Group activities provide students with the opportunity to learn about teamwork skills, communication skills, leadership skills and how to be independent while stimulating motivation. 
     Freyhof says, "In all aspects that my extracurriculars and sports have impacted my life, [it] is all positive. From meeting new people and finding things I love to do."
     Another important aspect to being in extracurricular activities is they give students a chance for community involvement. Most clubs and organizations volunteer their time to help others. Students learn what it means to give back to their community as well as people in need. These activities build positive relationships between students and members of the community that they wouldn't have if they weren't involved. 
     Freyhof emphasizes that activities she participates in outside of school have been beneficial to her and her high school experience.  "Extracurriculars definitely have helped me in many ways like in time management," she says. "Being involved in different clubs and sports has given me opportunities."