Alumni spotlight: JT Harms
Alder graduate JT Harms (Class of 2020) wrapped up his first soccer season at Indiana University (IU) following two previous seasons at Duke University. He was featured on the JALSD Instagram account back in Dec. 2022 for his notable save during the NCAA Division I National Championship game for IU. As part of a series with Alder graduates who have continued their sports career into 2023, I asked Harms about his soccer career. Harms has moved around over the years, but feels like he's finally where he's supposed to be: at Indiana University. 
Q: How long have you played soccer for Indiana University?
A: I've been at Indiana for three semesters. So one full season, but two seasons at Duke University. 
Q: What made you decide to switch schools?
A: I loved my teammates, I loved being at Duke, I loved my classes and the faculty. I still keep in touch with a lot of them, but ultimately I didn't think the training environment was best for me and I knew that to make it to the next level, there was more that I could be doing. So I entered the portal and Indiana has always been high on my list. I talked to them in high school, and they're the most historic program in college soccer with eight national championships, so I knew that this would be the best step for me to get to the next level. So yeah, it was a no-brainer for me. 
Q: So I'm assuming you played soccer in high school?
A: Yeah, I went to Jonathan Alder, but I left home when I was 14. I always played for an academy [professional youth soccer program] so I never really played high school soccer. 
Q: What made you want to continue playing soccer during college?
A: Yeah so the whole reason I had to move away from home, which is Milwaukee, Wisconsin, was that I wanted to be in an environment that enabled me to develop not only as a soccer player, but as a man and take on a new challenge. I left for Minnesota for my freshman year of high school and I was there for two years. I shot up the ranks and got involved with the USC's [United Soccer Coaches] National Team and then from there I had some MSL [Men's Soccer League]  exposure. I decided on Columbus Crew, which is kind of how I got [to Alder]. I always wanted to pursue professional soccer and I was fortunate enough to have things fall in place at the right time. I worked hard to create my luck and I was able to go to Columbus, and from there I was forced to decide what would be the next best step for me; whether it be pursuing a professional contract domestically or taking a college experience. I knew that I needed to continue to play games to develop, so the best route I thought for me would be to go to college and get an education in the meantime and continue to develop to be in a position where I could have the ability to look into a professional career once I finish up. 
Q: How does high school soccer compare to college soccer? You said there are schools like Indiana that have really good training programs and the next best steps for you but while you were in high school what do you realize is different now than you wouldn't have before?
A: Yeah, my experience was a little different. I never really got to experience high school soccer in America given that I was always in academy, so I would always train separately, which had its benefits. At times I wished I could play with my friends in high school, but I was fortunate enough to be in a professional environment at a young age. From my perspective, it's been a fairly smooth transition. That's why I'm glad I did what I did because it prepared me for the college game. Ultimately, I think the college game is much more direct than what I was used to playing for the Columbus Crew. It's very physical, and fast, the players are very strong; there are a lot more balls in the air, and dealing with the chaos of the fall season playing two or three games a week. It's a lot to handle all at once on top of school, but the training environments I was exposed to [helped with the acclamation process] it took about a year to adjust to the schedule of the college season and daily life. At Indiana, I feel right at home. Indiana historically has a strong link with the Columbus Crew; a lot of the Indiana alums have ended up playing for Columbus or even coaching at Columbus so there's a strong connection there which has made this even easier for me.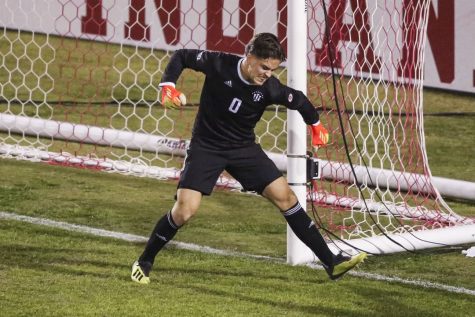 Q: How does being on a college sports team affect your college experience?
A: Being on a college sports team is almost a full-time job. You have two priorities in school as a student-athlete. I've had to learn how to prioritize my time and I've learned a lot of life skills like communication, preparation, and, most importantly, discipline. I've found that being a student-athlete I have to be able to communicate with both my professors and my coaches and keep on the same page. The workload can be tough at times, especially in season when we're traveling a lot. This fall we were fortunate enough to play through the postseason to the national championship game so we spent a lot of time in hotel rooms, on buses, and planes. So it was difficult at times, but putting in the work early on and building good habits prepared me for that. It was able to give me some cushion going into such a difficult time in the year knowing that I put in the work and put myself in a good position in all of my courses to be able to really hone in on what I was doing on the soccer field and then come back and be in a good position for finals at school. 
Q: What's your favorite memory of soccer in college; whether it's at Duke or Indiana?
A: My favorite memory for sure would be the entire national tournament this past fall, the 2022 national tournament. The on-the-field memories were incredible and some of those wins, when the final whistle goes off, just embracing the team or celebrating in the locker room. Those are awesome, but I'd say the most important would be when we were in the final four hanging out in the hotel room with my teammates playing cards, and having very open and honest conversations. That was just such a special moment in our lives to be on such a big stage, the support we felt from the university, and the soccer nation. It was pretty special so I'd say the 2022 national tournament would be the pinnacle so far. 
Q: What's your greatest accomplishment in your college career?
A: I think that I've been fortunate with how things have panned out at Indiana. I'm very proud of having made the national championship and making the all-tournament first team, but if I'm being honest, I think my biggest accomplishment would be being honest with myself and learning about myself. Entering the portal was a big decision, and I had to take a step back and prioritize what I wanted to get from my college experience–where would I be happiest, what qualities I admire and desire to have in my life, and who I want to surround myself with. As grateful as I was for my experience at Duke, I knew that there was more so ultimately I'm proud of myself for having made that decision. 
Q: On a scale of 1-10, one being the worst and ten being the best, how would you rate your college sports experience to this point?
A: I'd give it an automatic 10. Although there are times when it has fluctuated. There have definitely been some days that were twos, a couple of fives, and a couple of eights as well. All in all, I wouldn't have traded it for the world. I've learned so much about myself not only as a student-athlete but as a young man that I'm forever grateful for making this decision.