Prom information 2023
Maddie Saiter, Staff Writer, Social Media Manager
February 22, 2023
As Spring unfolds, students have the opportunity to join new sports, audition for the musical, and of course, attend prom. This year, prom will be held at the Columbus Zoo on Saturday, April 22, which also happens to be Earth Day. Tickets will be available to purchase online this year. While the link is not live yet, students will be able to access the ticket form by scanning the QR codes around the school, and they will cost $70 each.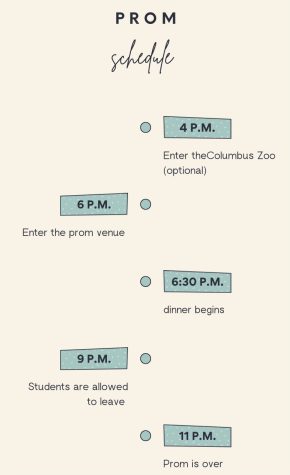 Students will be allowed to visit or walk around the Columbus Zoo at 4 p.m. before they can enter the venue at 6 p.m. Prom will end at 11 p.m. but students will be allowed to leave from 9 p.m. and on. If students need to leave before 9 p.m., they will need to see a staff member and prepare for a phone call from parents.
Dinner will start at 6:30 p.m. and be provided buffet style. Junior class advisor, Stephanie Tinberg says, "Vegetarian options will be available" as well. Dancing will begin shortly after dinner when students finish. Seating arrangements will be similar to last year's event with eight students to one table.
The hassle of paper tickets won't be a problem this year since they are purchased online. Junior class officer Eli Nicol says, "You should just be able to scan in," when you get to prom. 
Prom King and Queen voting forms along with music request forms will be sent to students in April when prom season begins. Be sure to participate in junior class fundraisers for a more interactive prom experience. The next fundraiser will be on Wednesday, March 8 at Chipotle. More information about this fundraiser can be found on the junior class Instagram account (@jahsclassof2024) and the account for The Pioneer Press (@jahs_news).