Alumni spotlight: Morgan Hicks
Alder graduate Morgan Hicks (Class of 2021) is in the middle of her sophomore track season at the University of Toledo. As part of a series with Alder graduates who have continued their sports career up until today, I asked Hicks about her running career. Hicks talks about how exploring her opportunities to run in college has led her to the best place for her: the University of Toledo. 
Q: You run track and cross country for the University of Toledo, right?
A: Yeah, it's pretty much one and the same if you're a distance girl. If you do cross-country, you most definitely do track, unless you don't have a track program. 
Q: Did you get a scholarship to run for Toledo?
A: Yes, I did.
Q: What made you want to continue running in college?
A: At first, I didn't want to run in college. My parents just encouraged me to look into the opportunities because coaches were reaching out to me, and then it was like, you know, you can explore this whole recruiting process and if by the end of it, you don't want to run, you can make that decision, but at least you looked into it. After I started talking to college coaches, the more running in college appealed to me; the thought of being on a team and keeping running a part of my life. I didn't anticipate it being as big a part of my life as it is now. I think I just wanted to have a group of people to start college with and keep doing the sport I love. But it wasn't necessarily like, "Oh, I love competing; I have to keep competing" or anything like that. It was partly social and partially to continue running. 
I love your guys' pink uniforms; they're just so cute. I wish we could've had pink uniforms for cross country. 
I love it too; my team is very girly, which I appreciate. My coach is all about pink and adds it whenever she can, which is funny because it's not even Toledo's colors.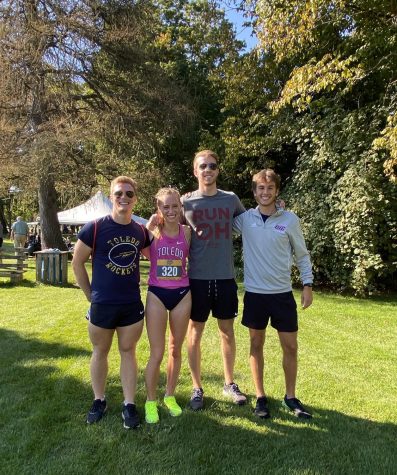 Q: How do high school cross country and track compare to college running?
A: It's very different. I would say the biggest difference is that when you're in high school, everything still revolves around school. You go to school for seven hours, and then you have practice for two hours. When you commit to running Division I specifically, everything revolves around when you're going to run. You have your advisors and your own class schedule that's specifically catered so you can make practice times. We don't have classes on Fridays so that we can travel for meets, and so I think the focus of lifestyle is different and that it's about when your practices and meets are going to be. There are a lot more resources- your own weight room, your own trainers- and you run a lot less. That's another thing; you compete a lot less. In high school, you have meets every week, and in college, you have maybe a couple of meets per month. Usually once every other week, sometimes it gets a little hectic in the postseason if you're one of the girls that's really good and competing. So I would say the lifestyle is very different, and the level is a lot different. In high school, you're competing within a smaller bubble, like your division in your state or your district in your state. But then once you get to college, specifically Division I, it's like everyone you're competing with was the best in their high school, maybe even the best in their country; there are a lot of international people in the NCA. So that's just a few differences. They're very different, for sure. 
Q: What's the average travel time for meets?
A: It depends. This year I was hurt, so I didn't travel as much for cross [country]. I went to Indiana State, and sometimes our meets are more local like at the University of Michigan which is in Ann Arbor, so it's only an hour away. But last year we went to Raleigh, and that was a whole couple-hour plane ride. We're going to go to Boston later this month, and that's a plane ride. Last year I went to San Diego, so that was quite the distance to travel, but other times it's more local, so it kind of just depends on where the competition is and what you're trying to accomplish. That part is fun. 
Q: I know you said that because you're running in college, everything is catered toward your running schedule. How does being involved in a sport affect your college experience?
A: I would say that you can have a life outside of your sport. There are girls on the team that are in professional fraternities, clubs, or whatever, but I would say that running, for me and most of the girls on my team, is also our main social outlet. There are 30 girls on the team so we'll plan and go and do things together. We do things that aren't running-related, but my teammates are still my main friends. I would say that's mostly the case. We'll have friends that are on other sports teams, but yeah, I would say that a lot of your social life is also tied up within your sport. I think if I told myself that before I started running in college, it would've overwhelmed me because I would've been like, "Running is my whole life." But it's actually a big blessing to have 30 immediate friends that I can be at a coffee shop with and say, "Hey guys I'm studying, does anyone want to come over and study with me?" and there'll be like ten other girls that are like, "Yeah need to get work done too, I'll come." So yeah, I'd say socially it also really affects it, and then sometimes you have to miss class if you're traveling for a meet.
I thought it was nice how you said you have like 30 immediate friends you can just establish those quick connections with; I feel like that would be really helpful. 
Yeah, it's really cool. 
Q: Are any of you guys in the same programs, or are all of you guys in totally different ones?
A: There's a big variety. There are a couple of other girls in nursing, but nursing isn't really a common major for student-athletes in general just because there's a lot of conflict with clinical. So there were a lot of programs where the coaches stopped talking to me when I said that I wanted to do nursing because my class schedule would conflict too much and I wouldn't be able to train. Toledo was one of the very few schools that told me I could be a nursing student and also an athlete. I wasn't going to change my major to run somewhere. But yeah, we have a big variety. Some girls want to be nurses, but they're going to nursing school after they graduate so that they can focus on running, which is crazy to me. 
It's crazy that they would just automatically not put as much thought into recruiting you because you want to be a nurse. That's just crazy to me. 
Yeah. It's a demanding major because you're in the hospital a lot, and that conflicts with recovery and everything. There were a lot of schools where I said, "Yeah, by the way, I want to do nursing," and they said, "Oh, you can't do that here." I was like okay. 
I feel like if Toledo can work around that, other schools should be able to figure that out. 
Yeah, it's just something that coaches would need to be flexible with, and some people don't want to deal with it, so they're like, "We're not going to recruit you," basically. 
Q: What would you say to anyone that's kind of on the fence about being involved in sports in college?
A: I would say look into it. Go through the recruiting process, talk to different coaches, and if by the end you're still like, "I don't know if I want to do this," or "I can't find a school that I would want to go to in this sport," then you don't have to do it. At least look into the opportunities because it's really cool. I would also say to reach out to people. A lot more people can do sports in college than they think. If you're just waiting around to get a letter from a Division I school, then you might miss out on opportunities. I did a lot of that: drafting up emails and saying, "Hey, these are my times I'm interested in your program;" people might be surprised by the places they could go with their sport I would say. 
Q: So you would say reach out first and don't sit around crossing your fingers?
A: Yeah, that's probably the worst thing to do actually if you want to do a sport in college. You have to be realistic about where you're at, and if I was like, "Yeah, I want to run at Oregon," like okay that's the best program in the country, I'm not going to email that coach. But if you look at school rosters, a lot of them have the stats of their athletes in high school and if you're looking at those and you kind of line up, you should reach out to the coach because just because you're not getting a letter doesn't mean they don't want you, they just haven't heard of you. I would say that too: reaching out and keeping an open mind. You could walk on or get scholarships if you reach out; there's a lot out there.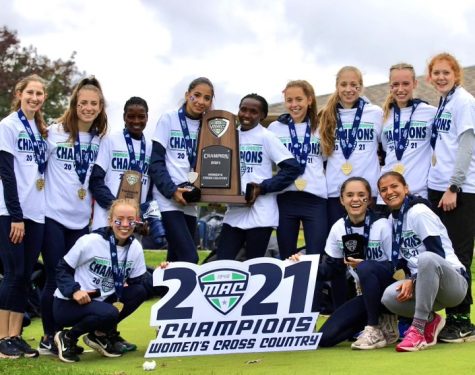 Q: What's your favorite memory of either cross country or track in college so far?
A: I would say my freshman year, when we won the conference. We won again this year, but last year was the first time in a few years that we'd won. That was just a really happy memory to be a part of that team, and especially as a freshman, I don't know, it just seemed kind of magical almost. Our team is super supportive of each other and has a lot of spirit as far as cheering each other on, so the whole team was there and we were all super hyped up. We were equally excited this year, but it's just different from the first time. So I'd say that's my favorite memory. 
Q: What would you say is your greatest accomplishment in your college career so far?
A: I would also say my freshman year of running at conferences in cross country. And then, in track, I ran my first 5K at Raleigh, and I was happy with how that went; I ran 17:07. I ended up ending my season early because I broke my arm. I was trying steeplechase, and I tripped over a steeple barrier and broke my arm. So yeah, I'm not doing the steeplechase anymore; I'm like traumatized; it was awful. 
Q: On a scale of one to ten, with one being the worst and ten being the best, how would you rate your college sports experience so far?
A: I'd give it a nine because ten would be perfect and nothing's ever perfect. I think Toledo is the best place that I could be, and I have the best coach and the best teammates that I could ask for. The only reason it's a nine and not a ten is because sometimes the schedule of being a student-athlete is a lot or there are ups and downs with my personal running and injury.