Alumni spotlight: Ava Francis
Alder graduate Ava Francis (Class of 2021) plays volleyball for and attends Virginia Tech University. As part of a series with Alder graduates who have continued their sports career up until today, I asked Francis about her volleyball career. Francis talks about how she enjoys playing volleyball in college now that she's found the right college and friends for her. 
Q: What sport do you play?
A: I play volleyball. 
Q: How many years have you played for Virginia Tech?
A: I have been at Virginia Tech for a year. 
Q: What made you want to continue playing volleyball in college?
A: I wanted to continue playing in college so that I could play the sport that I love,
and also get my degree paid for.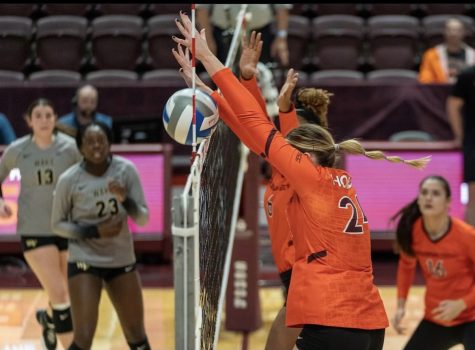 Q: How does high school volleyball compare to college volleyball?
A: High school volleyball was much less competitive than college. In college, I get to
play against some of the best athletes and teams in the country. Practices are a
lot harder, and we are also expected to get our homework done and get good grades
with a much busier schedule.
Q: How does volleyball affect your college experience?
A: Being a student athlete is a lot different than just being a student because we
have to balance homework and assignments on top of hours of practice, and
traveling. We also have to attend meetings and do study hall hours, so basically,
all hours of my day are taken up while other students go to class and then have
the rest of the day to do what they want. We do get a lot of perks, though, like
instant friendships with people on our teams, free clothes and gear, free food,
and getting to play at the highest level.
Q: What would you say to anyone on the fence about playing sports in college?
A:I would tell them to question how much they love the sport. It is a great opportunity, and I enjoy it a lot; however, it is hard work, and it can seem like a job or an obligation if you don't truly enjoy your sport.
Q: What's your favorite memory of volleyball in college?
A: I don't really have a favorite memory so far, but one [of my memories] is when our team beat Clemson at their gym in five sets in the first game of our season. It was a really exciting game. Also, I think my favorite memories are just the times that me and my friends went hiking and to our sunset spot every night in the summer when we had to be there early while no one else was on campus.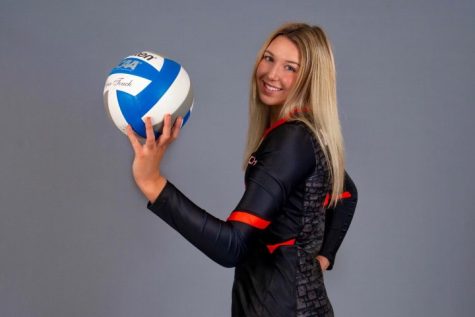 Q: What's your greatest accomplishment in your college career?
A: I think that my greatest accomplishment so far in my college career is getting to
start as a freshman and just get better with every game. I also had a career high of 17 kills against Clemson.
Q: On a scale of 1-10, how would you rate your college sports experience so far?
A: I would rate my college career a seven. I had a rough start going to Arizona and having a terrible experience, and transferring in the middle of the season, however, I have loved it at Virginia Tech. There are always highs and lows, and being a student athlete is very hard, but overall I am blessed that I get to get a degree at a prestigious college and play in the [Atlantic Coast Conference].  I also get good coaching, I have great friends and teammates, and I am not that far from home, so I enjoy it a lot.