"Did you know that there's a tunnel under Ocean Blvd" album review
On Friday, March 24, Lana Del Rey released her ninth studio album, "Did you know there's a tunnel under Ocean Blvd." As a huge fan of Del Rey's music, I had been getting incredibly impatient in the days leading up to its release; based on the singles she had released prior to the full album coming out, this was going to be a very important next step in Del Rey's career. It did not disappoint, and may just be her most beautiful album thus far in my opinion.
"Ocean Blvd" clocks in at one hour and 13 minutes long, with 15 songs, including two interludes. It featured artists Jon Batiste, SYML, Father John Misty, Bleachers, and Tommy Genesis and a recorded sermon from Pastor Judah Smith. 
While this album marks an important milestone for Del Rey, some context is needed before we can really get into what sets "Ocean Blvd" apart from her previous works.
We could start where everything started (her albums released under her actual name, Lizzy Grant),but I am going to begin with the album that propelled her into the spotlight: "Born to Die." This album established her 1960s-inspired look, a hip-hop influenced sound, and the Americana and religious motifs that have been a major part of her music and come to a peak in "Ocean Blvd."
If you are a hardcore Lana fan, you can probably skip this next section. If you are new to her music, I recommend reading the next section for some understanding of Del Rey's evolution as an artist. While "Ocean Blvd" is amazing without the background knowledge, I personally think it adds an extra layer of appreciation to the listening experience of the album.
Lana Del Rey: Then and Now
Many of the lyrics in her earlier songs center around her relationships with older men, and often focus on her childlike innocence contrasted with both her spotty past and her lover's. "Born to Die" is heavily influenced by the novel "Lolita" by Vladimir Nabokov, with her song "Off to the Races" quoting the opening lines; "Light of my life, fire of my loins," is used as the song's hook. Other songs off the album, like "This is What Makes Us Girls" and "Gods & Monsters" center around the experiences of girls and their innocence, often lamenting their immaturity and naivety.
This lyrical content inspired by "Lolita" continued throughout the following two albums, "Ultraviolence" and "Honeymoon." However, there was a notable variation away from the dark lyrical content inspired by the infamous Russian novel in the album "Lust for Life." Not only was this the first album cover to feature Del Rey smiling, but the lyrics did not focus on innocence and the negative side of her relationships. Many songs were more upbeat, and she often clearly indicates that her music would be changing (in the closing track, "Get Free," Del Rey sings, "I wanna move/Out of the black/Into the blue).
This lyrical change continued through her following albums. While she does still sing about her relationships with older men, it is no longer through her previous "Lolita" lens. Instead, Del Rey's songs often views her ex boyfriends as less mature than herself (the title track from "Norman F***ing Rockwell") or indicate that they are equals in the relationship ("Tulsa Jesus Freak").
"Did you know that there's a tunnel under Ocean Blvd" 
The important part about understanding Del Rey's artistic background is that "Ocean Blvd" builds on every step she has made so far as an artist. Her song writing is both brilliant and incredibly moving, with her incorporating similar lyrics across several songs. 
Throughout the album, the instrumentation is fantastic. The piano and string-instrument parts are often classically influenced with a light sound that perfectly accompanies the lyrics. Additionally, the synths and electronic sounds are used perfectly in the songs they are in, and often remind long-time Del Rey fans of her old music without undoing her growth as an artist.
The lyrical content–and Del Rey's vocal delivery–are also commendable. In many aspects, she is taking us to church; in multiple songs, she is heavily inspired by her religious beliefs, but also includes background singers reminiscent of church choirs. Particularly, in the opening song of the album "The Grants," she sings "My pastor told me when you leave/Oh-oh, all you take is your memory," and is accompanied by background singers throughout the song. She also includes a recording from pastor Judah Smith, which further reinforces the religious themes in her album.
In addition to the religious aspects that bring the album to life and showcase Del Rey's spiritual and artistic growth, there are also lyrics that are mirrored in different songs on the album. The lyrics "let the light in," are repeated in the choruses of "Kintsugi" and "Let the Light In (feat. Father John Misty)" to emphasize an important thematic element of the album. Del Rey is telling us and herself that our emotional damage does not prevent us from experiencing love and life, but insteads allows us to experience these things with more fullness and more "light."
"
"…if you know a relationship is bad for you, then you know you need to end it.""
The lyrics "if you know, you know" are also repeated, appearing in the songs "Paris, Texas (feat. SYML)" and "Margaret (feat. Bleachers)." These words contribute to another central theme to "Ocean Blvd" that Del Rey wants both us and herself to know: if you know a relationship is bad for you, then you know you need to end it. This is another important shift in Del Rey's writing, as in previous albums she often said she would "die without him" and attached herself in a very unhealthy manner to her boyfriends.
Even though "Ocean Blvd" is a dramatically different sounding album than her early works, Del Rey still pays homage to her "Born to Die" roots on several songs. On "A&W," the entire second half of the song is a rap inspired banger. The last three songs on the album all have a distinctly hip-hop laced sound, with samples, heavy bass, and distinct rhythms. This all is a good callback to her early works, but still manages to sound distinctly new. 
Overall, "Ocean Blvd" is a masterpiece. It builds on everything that Del Rey has created thus far, while also showing her maturity as an artist and furthering her development as an artist. Listening to this album is almost like watching Del Rey grow; we, the audience, listen to an album that reads like the private entries of her own diary, on the entry when she finally realizes her own self worth and maturity. It has quickly become my favorite of her albums, and I think it will be remembered as one of this year's best releases.
Leave a Comment
About the Contributor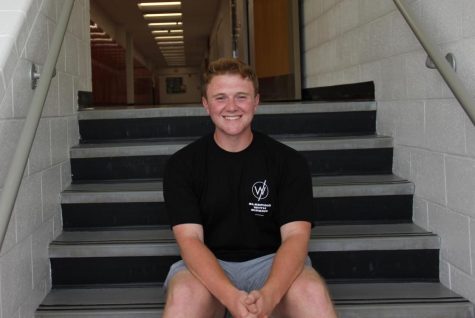 Jackson McCoy, Staff Writer, Editor-in-Chief
Jackson McCoy is a senior here at JAHS and has been with the Pioneer Press for three years. As the Senior Class President and member of NHS, Jackson enjoys...