23 with '23: Olivia Zimmerman
Olivia Zimmmerman is a senior at Jonathan Alder High school and is a member of the LEO Club. We interviewed Olivia as part of our 23 with '23 series to spotlight 23 different members of the class of 2023.
Q: What's one thing people don't know about you?
A: My nickname is Ozzy.
Q: What's your wakeup ritual?
A:Oh, I wake up to my alarm, which is birds chirping, and then I will go to my bathroom and wash my hands, do my skincare routine, brush my teeth, do my makeup, pick out my outfit, and then cuddle my dog for a solid five minutes and then I'll leave.
Q: What's your go to bed ritual? 
A: Take a shower, do my skincare, brush my teeth, lay in my bed for like an hour watching Tiktok or "Pride and Prejudice."
Q: What's your favorite time of day and why?
A:I love like 6:00pm for some reason, just because usually I'm doing nothing and I like when I'm not doing anything.
Q: If you could switch lives with someone for a day, who would it be?
A: Martha Stewart. Because she is so rich and I love everything about her life, especially her going to jail.
Q: Dream country to visit?
A: Greece, like "Sisterhood of the Traveling Pants,"
Q: What's the biggest surprise you've had?
A: When I was in third grade, it was Valentine's Day and my sister told me I was gonna be an aunt.
Q: If your life was a TV show, what song would be in the intro?
A: "Hot Wings," from the "Rio" soundtrack.
Q: What are three things you can't live without?
A: Coffee, my dogs, and Tiktok.
Q: What 3 people living or dead would you like to make dinner for?
A: Taylor Swift, Elvis, Hellen Keller
Q: Window or aisle seat?
A: Window.
Q: Secret talent?
A:  I can make a Starbucks drink in under a minute.
Q: Most adventurous thing you've done in your life?
A: Going out deep into the Coast and finding sand dollars.
Q: How would you define yourself in three words?
A: Introvert, Creative, Swiftie.
Q: What's inspiring you in life right now and why?
A: Jackson McCoy because he is literally so amazing and is doing so well. 
Q: Best piece of advice you've received?
A: But like the next coming years are about to be like the best years of my life and that I need to live them.
Q: What would you like to be remembered for?
A: Being the biggest Swiftie in the school.
Q: Best thing to happen to you today?
A:  When Anna Engle gave me a hug and told me I was her favorite person.
Q: Worst thing to happen to you today?
A: Pre-calc because I have no idea what's happening.
Q: If you made a documentary, what would it be about and why?
A: My whole entire life because so much has happened and I don't tell people. 
Q: Last piece of content you consumed that made you cry?
A: I cried recently because Taylor Swift played "Clean" at one of her tours, and it was a surprise song, and she doesn't sing those repeatedly. 
Q: Song you can listen to on repeat?
A: "The Rivers" by Daisy Jones and the Six 
Q: On a scale of 1-10, how excited are you about life right now?
A: 3- I'm super stressed
Leave a Comment
About the Contributor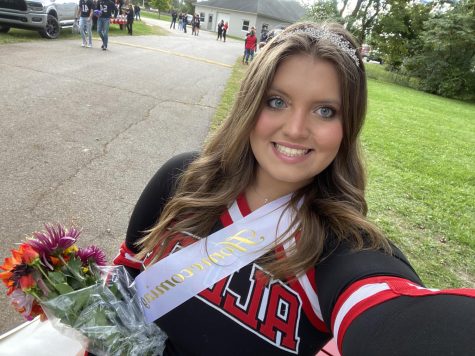 Maggie Storts, Staff Writer, Editor
Maggie is a senior at JAHS and this is her second year as a journalist. She is a Varsity cheerleader and participates in Quick Recall, French club, Drama...