23 with '23: Kaylie Murrell
Kaylie Murrell is a senior at Jonathan Alder High school and is a member of the Video Production team. We interviewed Murrell as part of our 23 with '23 series to spotlight 23 different members of the class of 2023.
Q: What's one thing people don't know about you?
A: I'm actually pretty chill. 
Q: What's your wakeup ritual?
A: Probably wake up, shower if I'm in the mood for it, take my ADHD medication and then come to school. 
Q: What's your go to bed ritual? 
A: I leave school, go home and take a nap, and maybe do homework if I'm up for it, eat dinner then go to sleep. 
Q: What's your favorite time of day and why?
A: Probably sunset and sunrise because they're pretty. 
Q: If you could switch lives with someone for a day, who would it be?
A: Tage Thompson. 
Q: Dream country to visit?
A: Dubai, because it's pretty there.
Q: What's the biggest surprise you've had?
A: Making it to senior year. 
Q: If your life was a TV show, what song would be in the intro?
A: I don't know, probably the "Friends" tv show theme song [by the Rembrandts].
Q: What are three things you can't live without?
A: Peaches, humor, and celebrities. 
Q: What 3 people living or dead would you like to make dinner for?
A: Evan [Lucician], Hailey [Nord], and Addie [Wilkin]. 
Q: Window or aisle seat?
A: Window!
Q: Secret talent?
A: I can sound like a duck. 
Q: Most adventurous thing you've done in your life?
A: Go to crater lake. 
Q: How would you define yourself in three words?
A: Impulsive, fun, and determined. 
Q: What's inspiring you in life right now and why?
A: Dream vacations because I like taking vacations. 
Q: Best piece of advice you've received?
A: Stop watering their flowers.
Q: What would you like to be remembered for?
A: Being the person everybody knows and will never forget. I want to be irreplaceable. 
Q: Best thing to happen to you today?
A: Waking up I guess. 
Q: Worst thing to happen to you today?
A: Addie [Wilkin] wasting her jello. 
Q: If you made a documentary, what would it be about and why?
A: My struggles, because I'm sure some people could relate.
Q: Last piece of content you consumed that made you cry?
A: I cried from Chicago PD when one of my favorite people left. 
Q: Song you can listen to on repeat?
A: Anything by One Direction, Taylor Swift, or Morgan Wallen. 
Q: On a scale of 1-10, how excited are you about life right now?
A: Around like a hard seven.
Leave a Comment
About the Contributor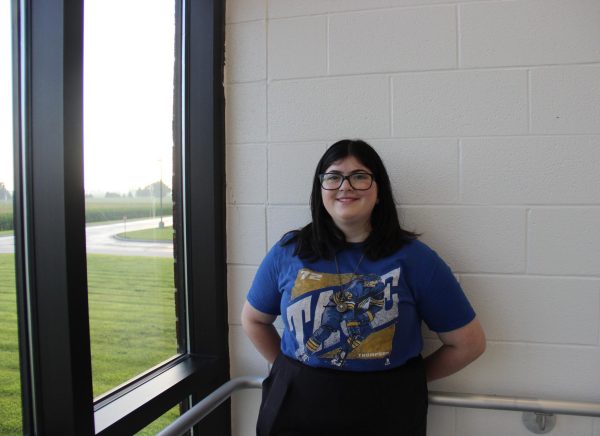 Caitlyn Feay, Staff Writer, Editor
Caitlyn Feay is a junior and this is her third year in journalism. Caitlyn is also an editor. Outside of school, Caitlyn is in our High School treble choir....